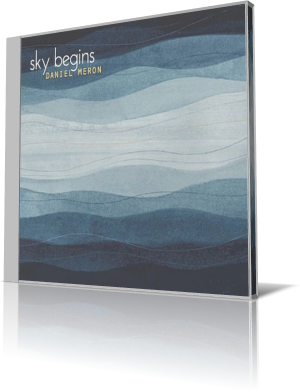 How do you make a piano-led trio sound like something other than a piano-led trio? Give it a voice. That's one way of looking at pianist Daniel Meron's Sky Begins (Rabbit, Rabbit, Rabbit Records, 2016.)

Maia Karo, Meron's wife, is the featured vocalist. The other musicians are Noam Wiesenberg, bass; and Jimmy MacBride, drums.

"Sleepless Nights" opens the set. The music is tranquil, haunting. Karo's voice and the piano complement each other in charming fashion. An updated version of a tune from Meron's Directions album, it also has a subtle groove that might generate some dance floor activity. Wiesenberg gets a moment to stretch out, followed by Karo in a wordless chant. Meron's middle solo is accented by Macbride, with Karo injecting a brief scat.

"Like Water," Meron says, can be interpreted as a struggle of being in a flow while writing or creating, or the difficulty of giving up control. "I don't know how to be like water," Maro sings. It's a sweet, soothing song musically, but lyrically presents a battle between hope and frustration.

"Secret Room" is a 3/4 piano solo. Placid. Elegant. Meron says of the piece that it's like European classical music, both romantic and mysterious. "It's a good example of something I experiment often with my music, which is changing tonal centers frequently and quickly."

Meron is an Israeli-born, Brooklyn-based pianist and composer. Sky Begins is his second release as a leader. All eight songs were written by Meron.