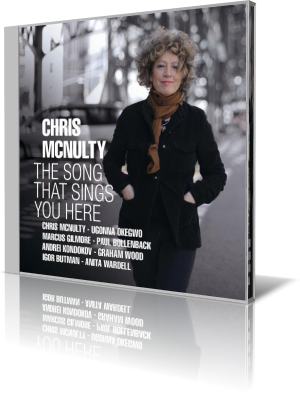 The Song That Sings You Here (Challenge Records, 2012) is a bittersweet assembly of music by vocalist Chris McNulty. The song selections and two original compositions were developed before the death of her son, Sam. The artist says the album sounds like it was conceived after her son died on July 16, 2011. "I have no explanation for this except to say that every song I sing, I sing for him. I sing him here, always."

The core group accompanying McNulty are bassist Ugonna Okegwo, drummer Marcus Gilmore and guitarist Paul Bollenbock. Piano duties are split by Graham Wood and Andrei Kondokov.

Starting out with a little scat, McNulty charms and swings on "How Little We Know." The rhythm section backs her up admirably, assisted by Igor Butman's tenor sax. Butman lets the instrument fly freely during the middle break. Bollenback also gets his moment to shine.

McNulty and her accompanists offer excellent takes on several standards, including "Jitterbug Waltz," "On the Street Where You Live," "The Lamp Is Low" and "One Less Bell to Answer."

"Letter to Marta," one of two songs written and arranged by the artist, was composed when McNulty was 14 years old. With no musical training, she learned it by singing it nightly for several weeks. However, the song lay dormant until one recent year, when McNulty heard the voice of Hungarian folk singer Marta Sebastyian, for whom she titled and dedicated the lyric.

McNulty puts a lot of soul and passion into her singing, and the musicians seem to feed off her energy, making this a charming and delightful listening experience.