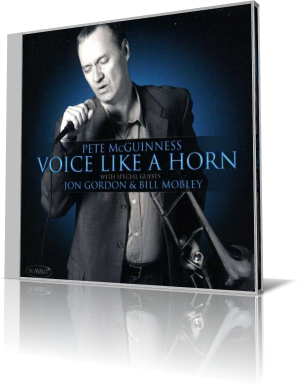 Some vocalists, whether with wordless chants or scats, successfully emulate an instrument, be it a trumpet or flute. Names like Janis Siegel and Tierney Sutton come to mind. But when a trombonist who also sings can blow the brass or croon, and make either interchangeable with the other, it's pretty impressive.

Pete McGuinness accomplishes that with his new release, Voice Like a Horn (Summit Records, 2013). With him are Jon Gordon, alto sax and flute on two songs; Bill Mobley, trumpet on two songs; Ted Kooshian, piano; Andy Eulau, bass; and Scott Neumann, drums.

"Yesterdays" gets things started. McGuinness opens the entire kit, inflections, scats and of course singing. His middle scat could easily transcribe into a trumpet or trombone solo. That's a trait that encapsulates the theme of the entire album.

McGuinness delivers a charming take on the classic, "Never Let Me Go," employing both voice and trombone for this romantic appeal. The scat goes into high gear for "49th Street," pairing his voice with composer Mobley's muted trumpet and Gordon's flute. After the threesome enjoy a tightly syncopated series of phrases, trumpet and sax take turns stretching out.

McGuinness may be best known for playing, arranging and composing with the Pete McGuinness Jazz Orchestra, as well as appearances on more than 40 recordings. He won first prize in the 2010 Jazzmobile Vocal Competition, a 2008 Gramm nomination for his arrangement of "Smile" on the McGuinness orchestra's First Flight.

With Voice Like a Horn, McGuinness locks in as one of today's accomplished jazz singers and scatters. "Pete's scat singing is stellar," says Darmon Meador of New York Voices. Who can argue?