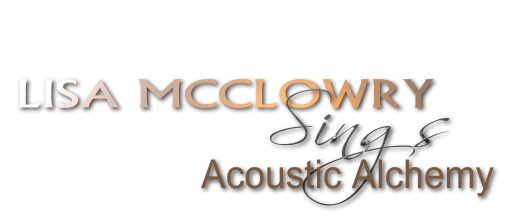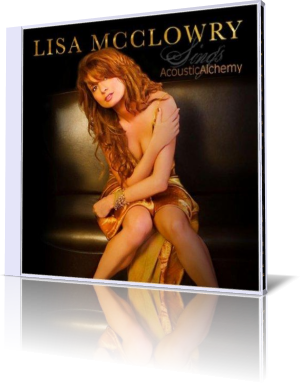 Vocalization. The Manhattan Transfer has made a career of it – the art of taking an instrumental piece, adding lyrics and making it something singable. Lisa McClowry enters that venue with Lisa McClowry Sings Acoustic Alchemy (Big Deal Records, 2012), fresh, lyric interpretations of 10 songs recorded by the British-based guitar duo of Greg Carmichael and Miles Gilderdale.
Jim Peterik is the driving force behind this project. Fresh of his successful Lifeforce project, Forces at Play, the Grammy and Oscar-winning songwriter ("Eye of the Tiger" from the Rocky IV film) wrote the uplifting lyrics for each song. Chicago-based McClowry is touring the United States with Carmichael and Gilderdale as special guests.
The driving bass by Richard Patterson and drums by Khari Parker help propel "Got to Share This Feeling." McClowry's voice is rich, soothing yet powerful. The energy she brings puts a lot of sunshine in an already bright piece. The song is based on AA's "Wish You Were Near."
"Knocking at the Door of Happiness" has a gospel flavor. Based on "AART Attack," this rendition features some stunning Hammond B3 work by Jeff Lantz. McClowry shows her vocal versatility by not only singing lead but also providing the background choral harmony. Gilderdale does an admirable job with the horn synths.
"Sleepless Night," based on Acoustic Alchemy's early hit, "Overnight Sleeper," is the catalyst for this project. McClowry opened for AA at a venue in Milwaukee. Peterik, who had heard the group only once before, hung out backstage with their manager. He later told them that he'd wanted to write lyrics for "Overnight Sleeper," and they urged him to do it.
The introduction begins much like the Acoustic Alchemy recording before McClowry steps in. The instrumental is pretty much faithful to "Overnight Sleeper," one of the most exciting songs in AA's repertoire. Peterik's lyrics and McClowry's voice add to that excitement, which is punctuated by an electric guitar solo on the fade.
Other adaptations include "Visions of Marrakesh" (based on "Marrakesh"), the country-flavored "Love Me Back Home" ("On the Case") and the charming ballad, "Teach You Tonight" ("The Velvet Swing"), which also appears on Forces at Play.
While pursuing her dream as a recording artist, McClowry got involved with animated films. She can be heard on television commercials for the Applebee's restaurant chain, singing "Eating Good in the Neighborhood." She also voiced songs for The Adventures of Rocky and Bullwinkle and provided the voice for Princess in Rugrats: The Movie.
Lisa McClowry Sings Acoustic Alchemy is as perfect a collaboration between original instrumental and vocal adaptation as one can hope for.