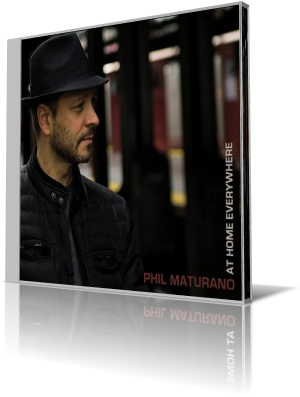 You could call it a piano trio that's led by a drummer. That's the configuration for Phil Maturano's At Home Everywhere (2015).

Maturano, of course, is the drummer. His accompanists appear in three combinations. The pianists are Matthew Fries and Christian Torkewitz. The bassists are Phil Palombi, Michael O'Brien and Irio O'Farrill. O'Brien performs on only one track, with Torkewitz on piano.

Wayne Shorter's "Fee Fi Fo Fum" opens the set in easygoing fashion. Fries carries the lead during the main body, with Palombi and Maturano laying down the head-bopping groove. The song is largely a showcase for the piano, but the bass gets its moment in the spotlight, as does the drum kit. Maturano holds back until near the end, when he mixes it up during a call and response with Fries.

"Rainy Street Corner," one of four Maturano originals, features the drummer with a slightly different beat. In most popular music, the snare is emphasized on beat 3 of a 4/4 song. Here, Maturano moves the emphasis around. At times, it sounds like beat 2. At other times, one might question whether you're hearing the signature correctly. Is it 5/4? Or 7/4? While you try to figure that out, you'll likely enjoy Fries' lead, and the fact that the mood reflects the title well.

Fries composed the upbeat "Two Left Feet." Here, Maturano stretches out more so than he does on other tracks. Even with the piano out front, he works the kit with a variety of patterns, from straightforward to broken-time passes and a shuffle. Palombi gets his groove on, as well. Early on, Maturano moves about the kit, featuring most if not all aspects of it. Later, he concentrates on the cymbals. Still later, it's the toms and snare before reverting to the overall kit.

Maturano was raised in a family of musicians. He was exposed to jazz at a young age, and at 16 began studying under Roy McCurdy. By 18, Maturano was touring and recording. He has also published instructional materials for drummers, which are distributed by Hal Leonard publications and available in music stores.

At Home Everywhere is a statement of Maturano's passion for exploring different ways to exercise his skill, whether shifting time signatures or pushing the melody.