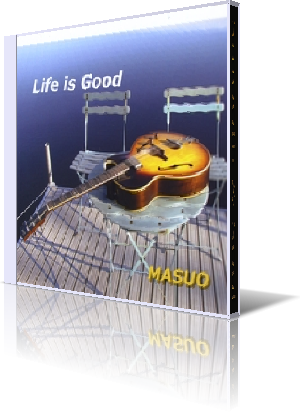 To many, the word "relaxing" is interchangeable with "boring" when it comes to describing music. Guitarist Yoshiaki Masuo defies that concept on Life Is Good, an aptly named release on the Sunshine Ave. label.
The set begins pleasantly with the title song, a charming tribute to true love. Masuo then injects some traditional jazz and humor with "Wet Dog." A dog barks periodically as Masuo and his sidemen – in this case, Larry Goldings on organ and Lenny White on drums – enjoy an all-out jam. Masuo's play is a throwback to Wes Montgomery with a hint of George Benson. Goldings shows, during his solo, why he's one of the most sought-after Hammond B-3 players. And White is in a zone, whether underscoring the leads with crisp cymbals play or filling the call and response with rolls on the snare and toms.
"Run Away (Winter Samba)" is inspired by the Great Brazilian Songbook of artists like Joao Gilberto, Milton Nascimento and Antonio Carlos Jobim. Masuo's guitar and lead vocals are softly backed by Steve Sacks on alto flute and a vocal ensemble known as the 2 Lips.
Most of the tracks were written or co-written by Masuo, but the album includes a few covers, as well: Thelonius Monk's "Pannonica," The Beatles' "Blackbird" and The Rolling Stones' "(I Can't Get No) Satisfaction." But whether original or cover, Masuo and his variable cast of supporting musicians and vocalists deliver a charming – and, yes, relaxing – mix. Masuo also plays keyboards and percussion on some tracks.
Masuo was discovered by saxophonist Sadao Watanabe. Being part of that band led to other gigs, including work with Michael Brecker, Chick Corea, Sonny Rollins the soul-funk group, Ashford and Simpson.