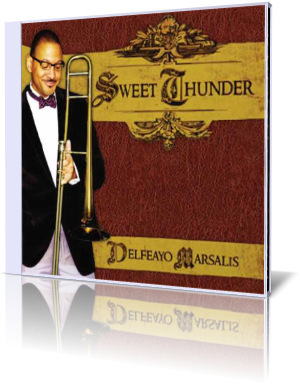 In one stroke of brilliance, master trombonist Delfeayo Marsalis pays tribute to both Duke Ellington and William Shakespeare. Such Sweet Thunder (Troubador Jass Records, 2011) recaptures and reinterprets Ellington's homage to The Bard of Avon.

Although the collection is an attempt to bring classics of the past into the present, these interpretations of Ellington's suite also stand apart as a new thing, with Marsalis' stamp. Accompanying him is a variable lineup of musicians, including brothers Branford (soprano sax) and Jason (percussion and drums) Marsalis, pianists Mulgrew Miller and Victor "Red" Atkins, trumpeter Tiger Okoshi and saxophonist Victor Goines.

The title song is a moderately paced, swinging tune. Baritone sax and trombone lay down a marching beat while muted trumpet, soprano and alto saxes bring on the sass. Delfeayo and Branford Marsalis are featured, along with Miller. "Half the Fun," at over nine minutes, is the longest track in the set. It's slow pace, punctuated by Jason Marsalis' congas, gives the feeling of a caravan moving through the desert. The soprano sax solo adds to that feeling with a few snake charmer phrases. Okoshi and Atkins also contribute.

Delfeayo Marsalis is an internationally acclaimed trombonist, composer and producer. Among his honors is the 2011 National Endowment for the Arts Jazz Masters award – fitting for an artist who comes from a family that's produced several jazz luminaries.