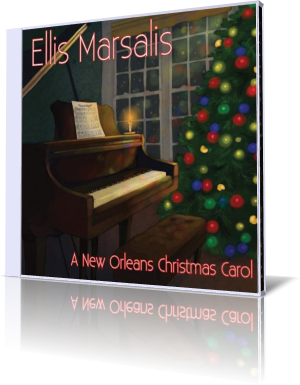 The patriarch of America's First Family of Jazz enters a new frontier. A New Orleans Christmas Carol (ELM Records, 2011) is the first jazz "LP" for iTunes. This release by the National Endowment for the Arts jazz master is available for iTune users as well as traditional CD players.

Marsalis is helped in this effort by son Jason Marasalis on drums, percussion and vibraphone. Also appearing are bassists Bill Huntington and Peter Harris, vocalists Cynthia Liggins Thomas and Johnaye Kendrick, and vibist Roman Skakun. Most of the tracks are in trio with the Marsalises and either bassist, but a few tracks are in quartet form, with one of the vocalists or with Skakun.

A straightforward, solo piano take on "O Tannenbaum" precedes a lively rendition of "The Little Drummer Boy." Jason's marching drum beat sets the pace. A sweeping, 3 4 arrangement of "We Three Kings" doubles as a tribute to fellow pianist McCoy Tyner. Jason's rim shots punctuate the upbeat melody of "God Rest Ye Merry Gentlemen," setting up for his dad's improvisation.

Marsalis' only original song, "Christmas Joy," is sung by Kendrick. The rest of the set is a mix of spiritual and secular holiday treats, including "O Holy Night," "Winter Wonderland," "Sleigh Ride" and "Greensleeves."

A New Orleans Christmas revisits several songs the Marsalises did on Jazz at Christmas in New Orleans. It's dedicated to the memory of Leona Learson, as well as Maraslis' wife, Delores.

Ellis Marsalis is widely accepted as one of the most important jazz musicians of the past 30 years. That distinction is not only for his own music, but also the fact that several of his children are accomplished jazz musicians: Wynton, Branford, Delfeayo and Jason, perhaps the best known among them.





www.ellismarsalis.com