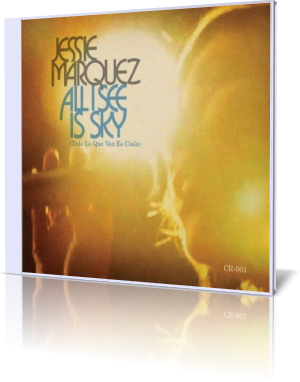 When the term "Latin jazz" is mentioned, one usually thinks of horns and percussion. Jessie Marquez reminds us that the human voice is also an important element in the genre. All I See Is Sky (Todo Lo Que Veo Es Cielo) (Carena Records, 2011) also injects some Brazilian and pop sounds.

"Dime, Amor (Tell Me, Love)" starts the set in romantic fashion. Marquez's earthy alto is soothing. The subtle strings, the keyboard and the congas blend perfectly to give the song both a touch of elegance and a groove for dancing. The liner includes lyrics in Spanish, in which they're sung, as well as the English translation. The closing phrase sums up the singer's thoughts: "Amandanos tan solo, sin hablar," or, "Loving each other without speaking."

"The Newness of You," written by Marquez with pianist and producer Clay Giberson, is a charming ballad, accented by Gilberson's play. "Y Lleuve (And It Rains)" features Paul Mazzio on trumpet and Gilberson on electronic keyboard. Like several tracks, this song mixes in a bit of samba.

In addition to Mazzio and Gilberson, Marquez is accompanied by bassist Phil Baker, drummer Charlie Doggett, percussionist Rafael Trujillo, guitarist Dan Balmer, woodwinds player John Nastos, trombonist Jeff Uusitalo and the Arnica String Quartet. Her repertoire includes work with the Afro-Cuban All Stars, guitarist Mike Denny, and appearances on Cuban television.