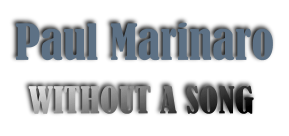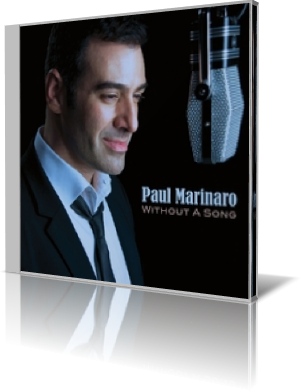 Let's face it. There aren't a lot of people writing jazz lyrics nowadays. So what's a singer to do? Options are basically limited to remaking standards or covering popular music (include rock, soul, R&B, country). So what sets one new release apart from others are two factors: selection and delivery.

For Without a Song (Myrtle Records, 2014), Paul Marinaro handles the selection by giving us 14 songs, with only a few of them among those that have been recorded ad nauseam. And he handles the delivery by being himself and not trying to emulate a particular artist, like Sinatra or Torme.

Chris Sargent, Chris White, Judy Roberts and Tom Vaitsas split piano duties. Guitarist Andy Brown sits in on a few. Bassist Joe Policastro and drummer Jon Deitemyer appear on all but four tracks – two of those being previously recorded material featuring Joseph Marinaro. And guest violinist Marielle De Rocca-Serra contributes to "May the Music Never End."

To begin the set, Marinaro plays a 1947, a cappella rendition by his father, Joseph Marinaro, then launches into a lively adaptation of "That Old Black Magic." He plays it straight but with plenty of verve. Sargent intervenes briefly on piano. No credits are listed for bass and drums on this track.

Marinaro brings a sense of fresh vitality to "I Get a Kick Out of You." Greg Fishman sits in with tenor sax. And White handles piano duties. The sax fills after each line of verse give this rendition an extra punch. With Marinaro locked in, this is a head-bopping, toe-tapping, finger-snapping track – one that's also easy to dance to.

Voices of father and son are blended on "You Will Be My Music." Joseph's deep baritone harmonizes nicely with Paul's mid-range.

Chicago-based Marinaro is considered one of the finest baritones. The youngest of an Italian-American family from Buffalo, New York, he was raised on standards, hearing his father singing or playing Sinatra and other classics from the Great American Songbook.

Though the subtitle of Without a Song is "For My Father," Marinaro says in the liner notes that every track is for and because of his mother, Caroline. The Joseph Marinaro parts are culled from digitally restored home-made 78 rpm discs, audio cassettes and a1946 Meissner record cutter.