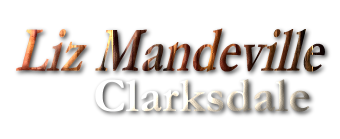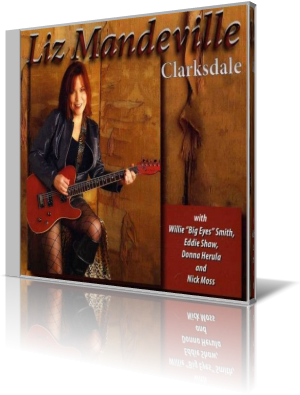 She's got a style that makes you notice. And she sings for the pure joy of it. Liz Mandeville, a product of the Chicago blues scene, visits the Mississippi Delta with Clarksdale (Blue Kitty Music, 2013).

The 2011 Chicago Blues Society's Blues Challenge Solo/Duo winner enlists some Delta region stars and a few other friends for the project. Among them are Willie "Big Eyes" Smith, who is from Helena, Arkansas, home of the King Biscuit Blues Festival. Saxophonist Eddie Shaw, who hails from the Stringtown community, near Greenville, Mississippi, also contributes. Darryl Wright plays bass and arranged several tracks. Several other players also make appearances.

"Roadside Produce Stand" is a lively piece. Mandeville sings with spirit and sass. Smith provides drums and blues harp (harmonica). It's the kind of song that makes those in the audience want to get up and dance.

"Clarksdale / Riverside Hotel Blues" sums up Mandeville's experience in that city. Each verse tells a story, starting with the hotel. The property was once a hospital for black people. Later converted into a hotel, it was where the legendary Bessie Smith died after a car accident. Another verse speaks of the deal with the devil at the crossroads. Several Delta communities lay claim to the crossroads where legend has it that blues great Robert Johnson sold his soul to become a great guitar player. Clarksdale is one such community. Mandeville also mentions Johnson, and Theo D at the Rock 'n' Blues Museum.

At times witty, and at times serious, Mandeville takes on the loneliness of being married to a military man with "A Soldier's Wife," Southern cooking with "Sweet Potato Pie," the dark side of politics with "4:20 Blues," Mississippi River flooding with "Sand Baggin" and the double entendre of kids teasing other kids while honor to women who have served in the military, "My Mama Wears Combat Boots."

Clarksdale is Mandeville's fifth album. It's 11 tracks are like a mini concert where she humorously or seriously tackles several subjects and makes them all fun. Mandeville sings and plays guitar on all tracks and the washboard on "My Mama Wears Combat Boots." The album is dedicated to Willie "Big Eyes" Smith, who died in December 2011 after contributing to this recording.