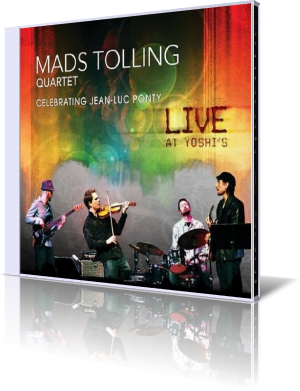 A few decades ago, when I first began to grow as a jazz listener, I recall a friend saying that he likes jazz but couldn't get used to "Jean-Luc Ponty and that violin." At the time, I was barely aware of Ponty, but I agreed. So used to the notion that violins belonged in a symphony orchestra, it was difficult to appreciate it as a lead instrument in jazz.
That attitude changed over the years, with increased exposure to Stephane Grappelli, Karen Briggs and, of course, Mr. Ponty. So by the first time I saw the name Mads Tolling in a CD liner, I was ready to accept his violin as a key component of the music I was about to listen to. Now, when I see his name, I expect an enjoyable experience.
Celebrating Jean-Luc Ponty by the Mads Tolling Quartet (Madsman Records, 2012), recorded live at Yoshi's in Oakland, California, is exactly that. From the opening notes of "Lila's Dance" to the conclusion of "Pontyfication," this is a fine example of the two-time Grammy winner's expertise. Also on the recording are guitarist Mike Abraham, bassist George Ban-Weiss and drummer Eric Garland.
"Lila's Dance" starts as a tranquil ballet with a pop beat. Effects make the violin sound, at times, like two instruments. Tolling expresses freely, getting into a zone and staying there until about two and a half minutes into it, when the song shifts into a blues piece, fronted by Abraham. As the intensity of the guitar picks up, so do the background antics of bass and drums. Tolling re-enters after the four-minute mark, but the blues element remains.
"Struggle of the Turtle" begins a suite of mostly Ponty tunes – Frank Zappa's "King Kong" being the lone exception. Also in the suite are "Enigmatic Ocean" and "Bowing Bowing." The mini set opens and closes with takes on "Struggle of the Turtle." Like his icon, Ponty, Tolling plays the violin in a way that lets you know he is classical musician, but presenting the freedom of movement allowed by jazz.
"New Country," another Ponty composition, features guitar and violin in a blazing duet. Bass and drums do assist, but it's mostly about the stringed instruments – one played with a pick and the other a bow. The middle interlude has a reggae beat.
Tolling grew up in Copenhagen, Denmark. He moved to the United States at age 20 to pursue jazz studies at the Berklee College of Music. Her performed with Stanley Clarke's band . As a member of the Turtle Island Quartet, he won two Grammy awards for Best Crossover Album with 4 + Four and A Love Supreme – The Legacy of John Coltrane. Tolling's path is similar to that of Ponty's, who moved to the USA from France, bringing his classical training into the jazz arena.