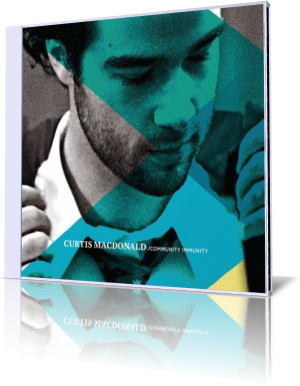 Alto saxophonist Curtis Macdonald's Community Immunity (Greenleaf Music, 2011) defies convention for a debut recording. Rather than cover jazz standards, create jazz arrangements of pop songs or adopt a commercially viable trend, he delivers 10 original pieces that employ crisp syncopation, interplay among musicians and expressive freedom.

That cuts against the grain of new artists who adhere to the format, wherein songs are intentionally short to increase the probability of being aired on radio – music depends heavily on catchy melodies and other common hooks.

There's nothing catchy or trendy about Community Immunity.

"Figmentum II" is part ambient, part free-form. Travis Reuter's acoustic guitar play is among the highlights. The mood is mostly tranquil, but the band cranks it up in the middle of Jeremy Viner's tenor sax solo. "The Living Well" is the most intense song in the set. The introductory sequence is an attention getter. After a mellow moment, the ensemble goes wild. Tethered by the rhythm section, the saxophones go off in different directions, threatening to break free before being pulled back.

Macdonald grew up in Alberta, Canada, and graduated cum laude from New School University in 2007. Performing since the age of nine, Macdonald refined his craft at the Banff Centre for the Arts and had apprenticeships in New York City.

Macdonald is accompanied throughout by Viner, who also plays bass clarinet on "Somnolence IV"; bassist Chris Tordini; and drummer Greg Ritchie. David Virelles and Michal Vanoucek share piano duties. Vocalist Becca Stevens and violinist Andrea Tyniec contribute to "Mosaic I." Reuter plays electric and acoustic guitars on "Figmentum II."

Macdonald wrote each piece with his cast in mind. The artist sees being part of a community vital to his creativity, and the title is a way of recognizing the community of musicians that he has been a part of.