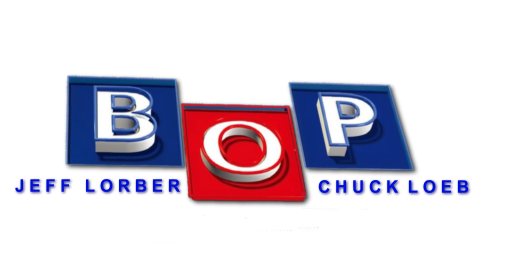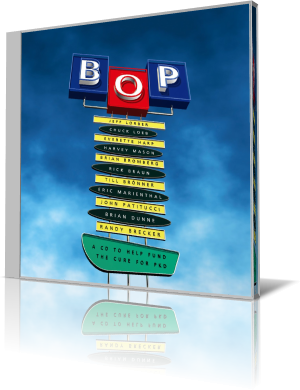 It's an all-star cast, although it falls under the heading of two leaders: Jeff Lorber and Chuck Loeb. Bop (2015) is the junction of vintage jazz, a popular festival and charity.

The core group consists of Lorber, Rhodes; Loeb, guitar; Everette Harp, tenor saxophone; Harvey Mason, drums; Brian Bromberg, bass; Rick Braun, trumpet and flugelhorn; and Till Broenner, trumpet. Special guests appear on selected tracks.

The ensemble goes for the jugular on the opening track, a thrilling arrangement of Thelonius Monk's "Straight No Chaser." After the horns bring us into the mood of the piece, Loeb takes off on a jaunt worthy of Wes Montgomery. Braun and Bronner take their turns and engage in a brief call-and-response sequence, followed by Lorber. The track ends with Braun's signature throaty wail.

Monk's "'Round Midnight" is also on the playlist.
Eric Marienthal steps in for "Confirmation," playing the alto saxophone. It's one of two Charlie Parker compositions to make the session.

The other is "Now's the Time," a sassy, swinging tune. The horns and guitar blend beautiful on the opening. After that sequence, Loeb stretches out, his fingers deftly hopping among the strings. Harp goes old school on the tenor, Lorber puts his mark on the track as well.
The finale, "Giant Steps," brings in John Patitucci, bass; Brian Dunne, drums; and Randy Brecker, trumpet.

Most of the musicians on Bop are normally associated with smooth jazz or some variant: R&B, pop instrumental, etc. To hear them play straight jazz is a treat. Lorber says it grew out of a tradition over the last six years to dedicate one night of the Berks Jazz Festival to bop, music that was popular in the late 1940s and 1950s. Over the years, Lorber and Loeb discussed using this music to raise awareness and funds for polycystic kidney disease, or PKD. It's an ailment that has affected Lorber and his family. The musicians donated their time and resources to the project.