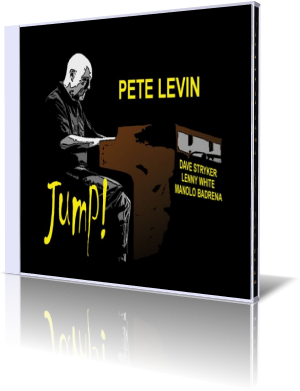 With a career defined by expertise with electronic keyboard instruments, itís difficult to imagine Pete Levin playing French horn. Early in his career, he filled that seat in the Gil Evans Orchestra. After bringing a Moog synthesizer to a gig, Levin not only changed course but also led to that bandís evolution into an electric/acoustic hybrid.

Levin is a veteran session and live keyboardist. He has created electronic sounds for television ads as well as movies, including Missing in Action, Lean on Me and Silver Bullet. His associations of jazz and pop artists include Paul Simon, Annie Lennox, Miles Davis, David Sanborn and Wayne Shorter.

For Jump!, Levin plays the Hammon B-3 organ. His core trio consists of guitarist Dave Stryker and drummer Lenny White. Percussionist Manolo Badrena appears on a few tracks. And for the closing piece, Stryker and White are replaced by Joe Beck and Danny Gottieb.

The title song sets a festive atmosphere. Though Levin leads, itís Whiteís drum play that carries this piece. The mark of a good drummer is one who does more than just keep time in the background. White works the entire kit throughout the song. After Levinís middle solo, Stryker steps up.

Badrena and White get things started on the funk-fused ďThe Big Dog Is Always Right.Ē Strykerís rhythm guitar gives it a James Brown feel. He later stretches out on a solo. A highlight of the track comes when Levin and Stryker harmonize for the call, while Badrena and White respond.

With Jump!, Levin sheds the traditional organ trio approach for something with more groove. With the organís bass mixed up front, the music has the sound of a quartet, making each song richer than if it were simply organ, drums, guitar.


Pete Levin - Website