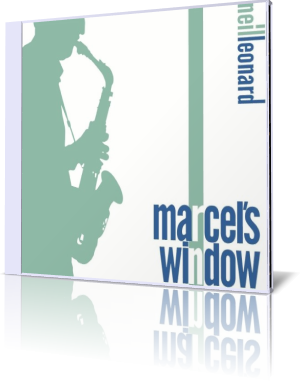 Those around in the 1970s might recall a disco song called "The Sound of Philadelphia," which was the theme for television series, Soul Train. Saxophonist/composer Neil Leonard calls Marcel's Window (GASP Records, 2011) the "sound of Philly in the 21st century."

Born in Boston, Leonard is based in Philadelphia, Pa., and draws on the talents of other Philly musicians: pianist Tom Lawton, bassist Lee Smith and drummer Craig McIver. The set is comprised of six pieces that represent the city's culture. The title is drawn from a window cut into the Philadelphia Museum of Art's façade to illuminate Marcel Duchamp's "The Bride Stripped Bare by Her Bachelors."

"Alex in the Atrium" is a playful piece that features Leonard on the alto sax. Though a modern piece, it's done in a traditional jazz style. Bass and drums cut loose underneath the leads, and at times share the spotlight with sax or piano. McIver's array of cymbals helps highlight varying textures of the beat. Toward the end of the song, Smith solos on bass, snapping the strings in rapid-fire succession during several phrases.

The title song begins with a brooding rhythm. The alto and the piano blend for a tightly syncopated melody before the song shifts into a spirited adventure. Lawton begins his solo in a relative safe zone, but clearly departs from the path, darting about here and there for a while, and then breaking into an all-out sprint. Leonard follows with some intense phrasing of his own. Not to be forgotten, Smith and McIver break from playing a set rhythm, instead delivering some abstract lines that happen to fit within what Leonard's doing.

This musical exploration into the City of Brotherly Love has a running time of about 48 minutes. So even though the individual pieces are longer than most popular fare ("Invisible Cities" is more than 13 minutes), the recording doesn't drag or invite a sense of restlessness.

Leonard is artistic director of the Interdisciplinary Arts Institute at Berklee College of Music. His vast list of associates include a dynamic cross-section of styles, including Boston Ballet, Hiram Bullock, Kevin Eubanks, Billy Kilson and Todd Rundgren.