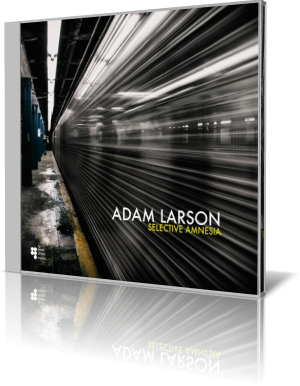 Amnesia is the loss of memory. Selective amnesia, in common conversation, is the perceived intentional refusal to remember certain things – to block things or simply not acknowledge the memory of them. For his album, Selective Amnesia (Inner Circle Music, 2015), saxophonist Adam Larson documents his musical growth over the past three years.

"For me, the process of accepting the things I can and cannot control has been an ongoing journey," he says. "The music on this album largely serves as my way of musically coping and reflecting during periods in which I felt most tested by my own ego and self-imposed drama."

On this date, Larson is accompanied by Matthew Stevens, guitar; Fabian Almazon, piano and Rhodes; Matt Penman, bass; and Jimmy Macbride, drums.

"Suitable Replacement" is a tranquil, 3/4 piece that begins the set. With aided by some crisp cymbal work by Macbride, and Almazon's elegance on the piano, Larson charms and delights with the tenor. After the introduction and melody, Larson tears it up during an extended solo. Stevens, Penman and the others remain busy in the background. Things soften when Almazon steps up. His delivery slowly builds to the mood of an adventurous trip, transitioning back to the main theme and Larson's return.

"McWendel" is a high-energy, boogie until your shoes wear out the rug kind of song. The main theme has Larson working the tenor in two, repeating phrases, one with the instrument diving deep and the other with it soaring to heights. The title combines the names of two of Larson's saxophone inspirations: Donny McCaslin and Ben Wendel.

Larson and Stevens combine for a hauntingly harmonious melody on "Disguise," a song Larson says he draws from his training in classical piano – before he took up saxophone at age 11. It's a moderate piece that engages the sidemen more than some of the other tracks. Penman and Stevens get their opportunities to stretch out. Each makes excellent use of his time.

Selective Amnesia is Larson's third album as a leader. He composed all eight songs.