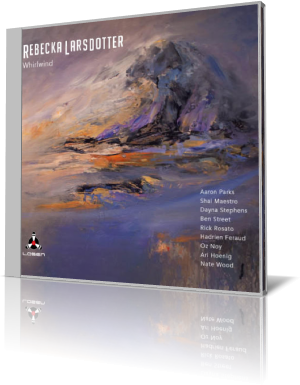 It's a marriage of light jazz and Scandinavian folk music. Swedish-born singer-songwriter Rebecka Larsdotter weaves the forms together with Whirlwind (Losen Records, 2016).

Larsdotter mixes and matches her accompanists, depending on the needs of the songs. The musicians are Aaron Parks, piano; Dayna Stephens, saxophone, arranger; Ben Street, bass; Nate Wood, drums; Shai Maestro, piano; Rick Rosato, bass; Ari Hoenig, drums; Oz Noy, guitar; Dennis Hamm, keyboard; Hadrien Feraud, bass; Gene Coy, drums.

"Kvar," a Larsdotter original, is a tranquil piece written in her native tongue. The title translates to "left" in English. It reflects her concept of the language being left behind and its parallel to being in a relationship where the person doesn't know where she stands. Bass and piano solos assist.

"Zane's Tune" is slightly more upbeat. It's a charming memorial to musician and teacher Zane Musa. Layered vocals enable Larsdotter to harmonize with herself during key phrases. The piano, bass and saxophone are like cross currents in a stream during the brief instrumental passages and the extended middle break. The bass heads off the latter with a solo before the trio, accented by Wood, sets off on the interlude.

Highlights of "If the Wind Will Allow" are Larsdotter's wordless chants and Hoenig's tom rolls. Like much of the music of Whirlwind, the song has a haunting sound, but with more emphasis on drums than the other tracks.

Based in New York City, Larsdotter inspired by instrumentalists such as John Coltrane and Brad Mehldau, and vocalists like Billie Holliday, Ella Fitzgerald, Whitney Houston and Ani DiFranco. Icelandic legends Bjork and Emiliana Travini also offered some inspiration. Larsdotter began playing violin, piano and singing by age 4. Her career began after she earned a master's degree in music from Orebro and Malmo University of Music. She moved to the United States in 2008 and continued developing her craft by writing, and by performing at such venues as The Bitter End, Shapeshifter Lab and Zinc.

Lyrics to all tracks are provided in the accompanying booklet.