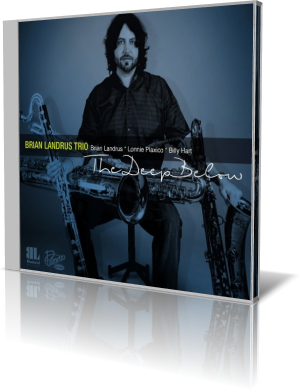 Low-end instruments don't get much exposure. Brian Landrus aims to bring them some with The Deep Below (Blueland Records, 2015).

Landrus plays baritone saxophone, bass clarinet, bass saxophone and bass flute. He's accompanied by Lonnie Plaxico, acoustic bass; and Billy Hart, drums.

"Fly" opens the set. It's a heady, steady piece. Landrus plays without boundaries, no desire to conform. He pushes the baritone to some low-end buzz and then to the extreme upper range. Plaxico and Hart mix up their rhythm lines, stretching out just a tad while providing the foundation upon which Landrus builds.

Landrus takes it alone on "Giant Steps." It's a spirited improvisation that features several high-speed rolls. Among them are some extended passes wherein you might imagine the instrument overheating if he doesn't slow down. But the sax doesn't overheat. Landrus continues in this form until the ad-lib morphs into the familiar melody.

"The Age" is one of the livelier selections. Plaxico and Hart are more active than they are on most of the songs. And Landrus' play is brighter.

Each song stands well on its own. Collectively, however, the set could use a little more fire, perhaps a piano or trumpet here and there to break up the monotony. This is that rare gem where the music is good throughout but can be challenging for a listener to stay focused for the entire set.

Born in 1978 and raised in Nevada, Landrus began playing saxophone at 12 and was performing professionally by 15. He earned a bachelor's degree in saxophone performance at the University of Nevada-Reno and two master's degrees at the New England Conservatory, one in jazz composition and the other in jazz saxophone. He is studying for doctorate in classical composition at Rutgers University. His associations include artists of various genres. Among them are Esperanza Spalding, Maria Schneider, Rufus Reid, Frank Kimbrough, The Drifters, The Temptations, The Four Tops, Martha Reeves, The Coasters, Alan Ferber and Lewis Nash.