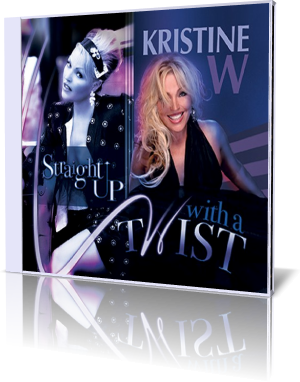 If you can imagine the voices of Sarah Vaughan, Lisa Stansfield and Swing Out Sister's Corinne Drewery as one, you'll have an idea of what Kristine W sounds like. "Straight Up with a Twist" (Fly Again Music, 2010) is the dance music diva's first jazz album.

Calling it that may be misleading. The 30-track, two-disc set shows two sides of Weitz. Disc 1 represents her jazz influence, and Disc 2 is more of a techno/dance vibe. Also, most of the songs are covers of rock, pop or R&B hits – several of them appearing in both jazz and dance modes.

The band consists of Ed Roth on keyboards and arrangements, Myron Dove on bass, Jason Hahn on percussion, Ricky "Z" Zaharaides on guitar, Lance Lee on drums, Tommy Cameron on guitar and Eric Tewalt on saxophone and flute.

"Stairway to Heaven" is a moderate groove interpretation of the Led Zeppelin hit. Weitz's sultry vocal leads, but the blend of instruments helps make this a good, stand-alone tune. Of particular notice are the piano, guitar, rim shots and percussion.

A similar approach is given to Donna Summer's "On the Radio." Weitz's precision is notable. She injects a mix of scat and chant during Zaharaides' guitar solo. The Romantics' "What I Like About You" is given a sassy, swinging touch. Lee stresses key moments with cymbal crashes. Dave Hart sits in with guitar and harmonica.

"Window to Your World" is one of six songs co-written by Weitz. The flute and percussion offer nice enhancements to a charming piece. Other interesting arrangements include Aerosmith's "Dream On," the Eagles' "Take It to the Limit." A different lineup of musicians appears on "The First Time Ever I Saw Your Face."

From a jazz perspective, Disc 2 is totally unnecessary. Rather it would be if not for Weitz's rich, earthy vocals. While fans of electronica may enjoy these arrangements, I find them to be are musical equivalent to squeaking brakes to a jazz audience. Still, I kept listening. Weitz's voice has a way of making the intolerable tolerable.

Even if you're not interested in the dance mixes, "Straight Up with a Twist" is solid. Weitz has made a name for herself as an icon of dance music since the 1990s. She is tied for third with Mariah Carey among those with the most chart toppers in Dance / Club Play song lists.

Also known for her looks, Weitz represented the state of Washington in a Miss America pageant, where she won talent and swimsuit competitions. Though "Straight Up with a Twist" is her first jazz recording, Weitz grew up in a jazz environment, drawing inspiration from her grandmother, who introduced her to the work of Carmen McRae and Ella Fitzgerald.


Kristine W - Website