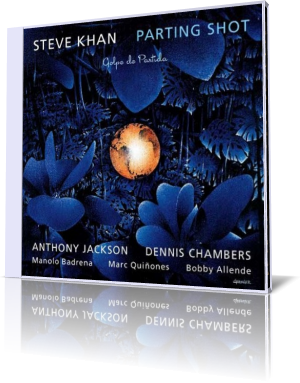 Steve Khan can do no wrong. Whether as a session player for such diverse acts as Maynard Ferguson and Steely Dan, partnering with keyboardist Rob Mounsey, or standing on his own as a lead artist, the prolific guitarist never fails to impress.

Culling the talents of several associates he has worked with in the past, Khan delivers Parting Shot (Golpe de Partida) (Tone Center, 2011), a stunning, Latin-flavored follow-up to The Green Field and the Grammy-nominated Borrowed Time.

Accompanying him on this musical adventure are Anthony Jackson, contrabass guitar; Dennis Chambers, drums; Manolo Badrena, percussion and vocals; Marc Quinones, timbal, bongo and percussion; and Bobby Allende, conga. Mounsey contributes keyboards on "Zancudoville" and orchestrations on several other tracks. And guest vocalists Tatiana Parra and Andres Beeuwsaert appear on "Influence Peddler."

"Los Gaiteros" is accented by a Khan trademark: the cowbell. A fan of Latin music since the 1950s, Khan fell in love with the use of cowbells in a variety of songs from other genres, from the Beatles' "Drive My Car" and "Taxman" to the Rolling Stones' "Honky Tonk Woman" and War's "Low Rider." Khan has since made a point of including cowbells in his recordings. It adds a nice touch here. One of the finer moments comes late in the song when Khan is providing the rhythm while Quinones stretches out on timbal.

Khan and Badrena paired up to compose "Maria Mulambo." One can almost hear James Brown singing, "I'm gonna have a funky good time," underneath the 6/8 rhythm, which was inspired by Brown's "Doin' It to Death." Badrena also provides the voice, with lyrics in Brazilian Portuguese. Like other tracks, this one presents a blending of cultures: North American soul/funk, Afro-Cuban grooves and a taste of Brazil.

Parting Shot is Khan's first venture for an all-Latin album, though other styles are represented as well. In some of his past releases, Khan's leadership and guitar playing ability stood out. Here, the music has a striking balance between Khan's lead, exceptional songwriting and the performance of his supporting cast.