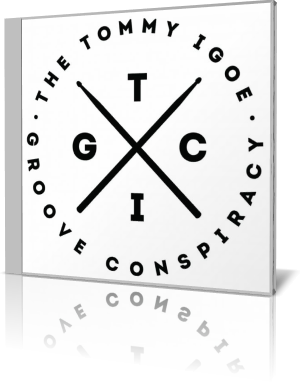 The word "conspiracy" often has a negative connotation, as it usually relates to high crimes plotted or carried out by multiple persons. However, the word simply means a plan developed by two or more. It's put to positive use by the new ensemble,
The Tommy Igoe Groove Conspiracy
(Deep Rhythm Music, 2014).
The Groove Conspiracy band consists of Tommy Igoe, drums, programming; Dewayne Pate, bass; Colin Hogan, piano; Drew Zingg, guitar; Louis Fasman, lead trumpet, flugelhorn; Steffen Kuehn, trumpet, flugelhorn; Dave Len Scott, trumpet, flugelhorn; Nick Ciardelli, trumpet, flugelhorn; John Gove, lead trombone; Jeanne Geiger, trombone; Mike Renta, bass trombone; Marc Russo, alto and soprano sax; Tom Politzer, tenor sax; Alex Murzyn, tenor and alto sax; and Aaron Lington, baritone sax. A few guest conspirers appear on selected tracks.
Guest conspirator James Genus holds the bass for the opener, "Mercy, Mercy, Mercy." The horns and the wah-wah guitar highlight the main theme, with Igoe getting his licks in during transitions. Russo's alto sax squeaks, squeals and rolls through a blistering middle. After the band revisits the theme, changing keys several times, Politzer offers a brief tenor solo. The mood and tempo are brighter than the textbook, Cannonball Adderley recording.
Vocalist Kenny Washington joins the conspiracy for the sassy, brassy "Let the Good Times Roll." Russo, a former member of the Yellowjackets, again is featured on the alto sax. But whether the spotlight is on Washington, the horns or Russo, Igoe subtly does his thing. For his part, Washington sings with intense passion, especially during the song's climax.
Igoe began playing drums at age 2. He has won numerous awards and readers' polls as a performer and educator. Igoe created the drumset book for Disney when it produced
The Lion King
on Broadway and then used his classical training as the production's assistant conductor. The Groove Conspiracy is based in San Francisco, where the band performs each Tuesday night at Yoshi's jazz club. Some members have previously performed with Tower of Power, Santana, the Doobie Brothers and Steely Dan