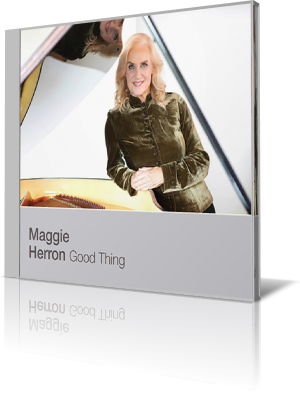 Long a favorite in paradise, Maggie Herron is now available to the rest of the world.
Good Thing
(2014) is the latest by the pianist/vocalist known as "the Big Island's jazz goddess."
The album is produced and edited by Brian Bromberg, who plays acoustic bass on 12 tracks, and piccolo bass for the cover of Joni Mitchell's "Woodstock." Drummer Dave Tull appears on all but two songs. Several others make contributions here and there. Among the notables are saxophonist Bob Sheppard, percussionist Alex Acuna and trumpeter Rick Braun.
"Things Could Be Better" is one of five original songs in this session. The song has a hint of bossa nova. Saxophonist Paul Lindbergh and trumpeter Lee Thornburg play softly beneath the vocal, with charming fills by guitarist Ramon Stagnaro. Piano and guitar enjoy brief solos.
Herron's singing isn't very strong. However, that hardly matters. Exceptional songwriting and arrangements, and solid performances by all musicians make each song enjoyable. The voice is good enough to deliver the lyrics in a style that complements works well with the instruments.
Herron slows it down and delivers a bluesy rendition of the Nat King Cole/Irving Mills classic, "Straighten Up and Fly Right." Aided by Sheppard's tenor sax and crisp play by Bromberg and Tull, Herron gives this song a touch of smoky sass.
"Cake," another original, is a lively, get-on-the-dance-floor song. Sheppard makes another appearance. This time, the horn section consists of Andrew Neu on sax, and Thornburg handles trumpet and trombone. Stagnaro goes to town on the electric guitar, playing it like one of those hybrid rock/jazz musicians. Larry Carlton during his Steely Dan years and Steve Lukather come to mind.
Herron wrote three songs for
Good Thing
, co-writing two with her daughter, Dawn Herron. She and her accompanists deliver excellent renditions of a few classics. In addition to those already mention are "The Very Thought of You," "Moon River" and "Body and Soul."
The ninth of 12 children, Herron was born in Muskegon, Michigan. From a musical family, she trained in classical piano as a child. She moved to Seattle, Washington, in 1972 and developed a wide repertoire of rock and jazz. Unlike many jazz artists who perform in Hawaii and leave, Herron played there and took root. She's been a fixture on the island of Hawaii since 1976. Apart from her regular gigs, she has opened for such heavyweights as Dave Brubeck, Taj Mahal, the Crusaders, Michael Franks, Phoebe Snow and others.