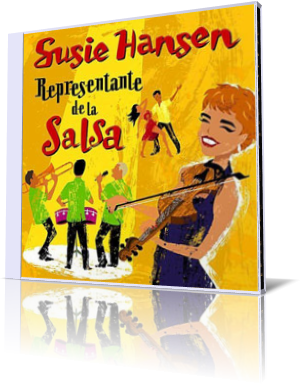 For 20 years, violinist Susie Hansen has led one of Southern California's more popular Latin bands. She and the gang "aim for the feet" with Representante de la Salsa on Jazz Caliente.
The band consists of Hansen on electric violin and vocals; George Balmaseda and Kaspar Abbo on vocals; David Stout on trombone; Tim Messina on tenor sax and flute; Joe Rotondi on piano; Rene Camacho on bass and background vocal; Jimmy Branly on timbales; Joe De Leon on congas; and Ricardo "Tiki" Pasillas on bongo and hand percussion. Co-producer Erich Bulling also appears as background vocalist.
The title song starts things off. Balmaseda sings lead, with ample backing by Hansen, Camacho and Bulling. After a few rounds of the voices, Hansen solos on the electric violin. She then blends with the horn section on the middle break. The percussionists contribute to the Latin flavor.
The band does a fiery take on the Ides of March rock classic, "Vehicle." Led by Abbo, with Balmaseda, Hansen and Bulling in the background. The melody recaptures the feel of the original, but the piano rhythm and the percussion play get the salsa feet moving. The verses are sung in English, but the middle vocals are in Spanish. Violin and horns answer the vocal calls.
"Si No Contigo" is an instrumental piece written by Hansen and Stout. It's more of a straightforward Latin jazz piece. Though it has more of a mambo feel, one wouldn't be wrong to just dance or dance salsa. It's one of those songs that cut across boundaries with ease.
The 11 songs are all good for dance, but they're also delightful if you just want to listen. Seven of the songs were co-written by Hansen and members of the band. And the four covers are unique interpretations, done in a way that Hansen can claim ownership. Representante de la Salsa is one of 2010's more delightful releases.