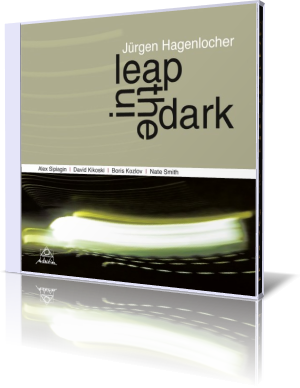 To hear the word, "Pollyanna," one might think of a character from a children's book or someone with an optimistic personality. But in the hands of saxophonist Jürgen Hagenlocher, it becomes something quite different.

Hagenlocher plays the tenor on Leap in the Dark (Intuition Records, 2012). His supporting cast is comprised of trumpeter Alex Sipiagin, pianist David Kikoski, bassist Boris Kozlov and drummer Nate Smith. The group comes together for eight original songs that add up to more than an hour's worth of musical enjoyment.

Kikoski plays the electric piano on "Pollyanna," a delightful introduction to the set. Tenor and trumpet unite on the melody. The free-spirited mood makes this one of the better pieces on an excellent recording. Highlights include Kikoski's middle solo. While fresh, it conjures memories of some early Bob James and perhaps a bit of Eumir Deodato. Smith stretches out during the sequence that sets up the closing phrase.

"Corruptionists" begins with an intense workout by Smith. After about a minute and a half, the virtuoso shifts into the song's rhythm. The whole ensemble is engaged, with significant contributions from bass and acoustic piano. But it's the leads of Hagenlocher and Sipiagin that carry the effort.

Hagenlocher was born in 1967 in Friedrichshafen, Germany. He began playing saxophone at the age of 17, and four years later he won a youth competition in his hometown. Since then, he has performed with the Baden-Wurttemberg's State Youth Orchestra, studied at the Swiss-Jazz School and at festivals in Bern, Montreux and Cully. As a sideman, he's recorded with such artists as Peter Graves, Bob Mintzer and David Friesen. Leap in the Dark is his third recording as a leader.