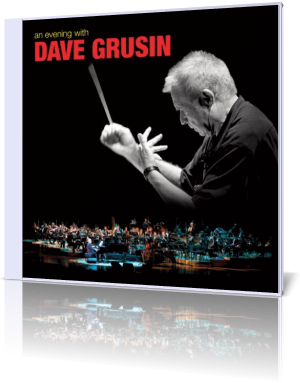 The Goonies is a fun, charming theatrical romp about a group of kids seeking buried treasure in the United States' Pacific Northwest, all the while pursued by a murderous family. "Fratelli Chase" revisits the film's opening sequence and is also a poignant first track to An Evening With Dave Grusin (Heads Up International, 2011), a live concert of symphony and jazz by one of the most widely recognized composers of both genres.

Throughout his career, Grusin has scored themes to numerous motion pictures and television series, including The Graduate, On Golden Pond, Tootsie, St. Elsewhere and It Takes a Thief. This groundbreaking live recording captures the pianist, composer and arranger with a host of stars and the 75-piece Henry Mancini Institute Orchestra, recorded in December 2009 at the Adrienne Arsht Center in Miami.

The idea was to do a concert featuring songs recorded by Grusin over the years. Longtime associate and producer Larry Rosen helped narrow the list down to a few by Grusin's favorite composers and some of his own tunes. Those favorites are Leonard Bernstein, George Gerswhin and Henry Mancini.

Vocalists Jon Secada and Pattis Austin perform a duet on the Bernstein/Sondheim classic, "Somewhere." Their voices harmonize beautifully on the chorus. Arturo Sandoval brings his trumpet for the middle break.

Flutist Nestor Torres steps in for the delightful "I Feel Pretty. After a tranquil opening, the percussionists dig in, transforming this piece into an energetic Latin interlude. Grusin's piano settles things down, reverting back to the playful theme. Piano and flute enjoy a brief dialogue, sans orchestra, before taking one more trip with the melody.

Mancini classics are back to back, "Moon River" and "Peter Gunn." The former is led by Monica Mancini, whose earthy voice enhances the elegant nature of the song. The latter features vibist Gary Burton.

Grusin has won 10 Grammy awards and one Oscar. Borrowing a page from the Alpert/Moss partnership, he teamed with Rosen to form GRP Records. In addition to his own recordings, Grusin produced or performed with several of the label's artists, including Chick Corea, Lee Ritenour and Tom Scott.

An Evening With Dave Grusin is available on CD, Blu-ray and iPad app. The latter includes behind-the-scenes interviews, music and video clips, and other content.