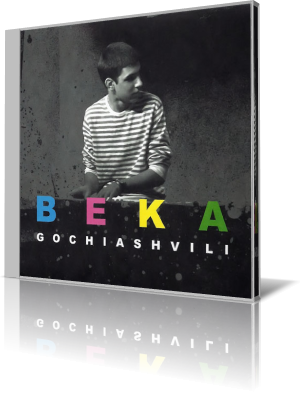 "Giving back to the community," a phrase often used when someone from a given location achieves success at something and then contributes in some way to another's quality of life. What better way for a renowned recording artist to give back than to discover or introduce new talent?
Beka Gochiashvili (2012), the self-titled debut of a young pianist, produced by Lenny White, who earlier in 2012 introduced a charming young vocalist, Letizia Gambi.

Born in Tbilisi, Georgia, on March 11, 1996, Gochiashvili was just three years old when he began dabbling on piano. Within five years, he was good enough to win competitions. At 16, Gochiashvili found himself surrounded by a wealth of jazz talent for this recording. Return to Forever partners, drummer White and bassist Stanley Clarke are on this date, along with such notables as bassists John Patitucci and Victor Bailey, trumpeter Wallace Roney, alto saxophonist Jaleel Shaw.

The opening track sets the keys ablaze from the start. "Un Gran Abrazo," dedicated to White and Clarke's Forever bandmate, Chick Corea. The rhythms are like those of a vintage Corea composition. Guitarist Tom Guarna and the saxophonists give it an Elektric Band feel. Throughout, Gochiashvili tickles the ivory in a way that would make proud his musical fathers, Corea and Keith Jarrett.

Gochiashvili also honors Jarrett with "For Keith," a trio piece. Gochiavshili says he went crazy at the age of 4 when he heard Jarrett's 1986 recording, Standards II. He was 6 when he heard Corea's trio album, Fingerprints. A later e-mail from Corea ended with, "Bye Beka, Un Gran Abrazo," (a big hug).

Roney steps in for the bright, energetic – and all-too brief – "New York." Other highlights include "Chicknstan." Despite the title's appearance, it's not some obscure country in Eastern Europe or a clever nod to poultry. It's shorthand for Corea and Clarke, White's Return to Forever bandmates, for whom he wrote this piece. "Herio Bichebo," one of two pieces written by Georgian composer Giya Kanchli, features 19-year-old Georgian opera vocalist Natalia Kutateladze.

It all comes together for an exciting debut by Gochiashvili.