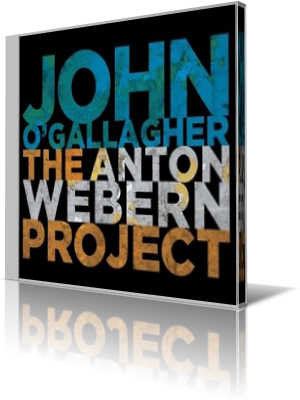 Free, abstract, different. Those are some of the terms that describe the music of Austrian composer Anton Webern – played as if he were a jazz musician. That's the thinking by The Anton Webern Project (Whirlwind Recordings, 2013) by John O'Gallagher.
The lineup is O'Gallagher, alto saxophone; Matt Moran, vibraphone; Pete McCann, guitar; Russ Lossing, Hammond organ, Rhodes and piano; Johannes Weidenmuller, bass; Tyshawn Sorey, drums; and Margret Grebowicz, voice.

"Schnell (after Op. 27)" shows O'Gallagher's skill as a straightforward, no-holds-barred saxophonist. He charges in and doesn't let up until it's time to give way to Lossing's organ. Guitar, bass and drums are quite busy behind whoever's in lead. For his part, it's a wonder Lossing doesn't start a fire with all the friction he creates on the keys. Moran doesn't have much to do until near the end of the song, when he and O'Gallagher share the spotlight briefly, before the vibes take point on the fade.

"Quartet (after Op. 22)" is a free-form piece that has no discernible melody. Just the alto roaming wherever it wishes, with the others maintaining a cohesive pace. During one brief phrase, sax and vibes unite, then the sax drops out while Moran goes exploring, accompanied only by bass and drums. The closing sequence employs a series of stop-time phrases. The band is tight throughout.

O'Gallagher, born in Anaheim, California, and raised in Spokane, Washington, has worked with an array of talent, including Joe Henderson, Kenny Wheeler, Dave Liebman and Chris Potter. O'Gallagher says he first heard Webern's music in a music history class at Berklee College of Music in the 1980s. "His music seemed other-worldly and shrouded in a mysterious process that no explanation by the teacher could unravel. This seed, planted early on in my musical development, grew into a love and fascination for 20th-century classical music."

The payoff is evident.