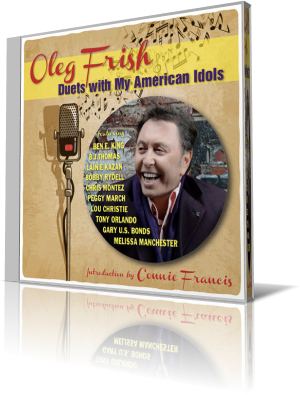 One way to stand out when doing vocal renditions of songs that have been sung six ways 'til Sunday is to add another voice. Or in the case of Oleg Frish, several voices. Duets with My American Idols (Time Out Media, 2015) features Frish with 10 crooners.

Each song is accompanied by a variable lineup of musicians. Frish sings a few tracks without a partner, but the duets make his renditions of these classics unique.

After an introduction by Connie Francis, Frish begins the set, joined by Gary U.S. Bonds for "You're Nobody Till Somebody Loves You." The pair are a throwback to the Rat Pack duets of Dean Martin and Sammy Davis Jr., or Bing Crosby and Bob Hope. The band is solid behind the two leads.

B.J. Thomas handles the first verse and chorus for "Sunny," with Frish taking the second. The instrumental break takes on a salsa vibe with the horns and percussion. Bob Mann rides along with a rock-inspired, electric guitar solo.

Melissa Manchester joins Frish for "A Fine Romance." Aided by the muted trumpet of Glen Drews, the singers make this as much a buddy song as it is a delightful love song.

Among the others who appear with Frish are Lainie Kazan, Tony Orlando, Ben E. King and Bobby Rydell. Frish grew up listening to these songs, many of which have gained new popularity since the 1990s, covered by many pop and jazz artists. Born in Russia and based in New York, Frish is a radio and TV host. The lsit of entertainers who have been on the set with him include Anita O'Day, Englebert Humperdinck and B.B. King.

Duets with My American Idols has extensive liner notes, that include comments from Frish about the songs and working with his musical role models.