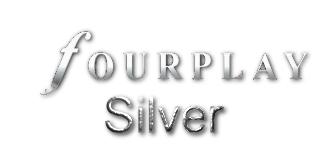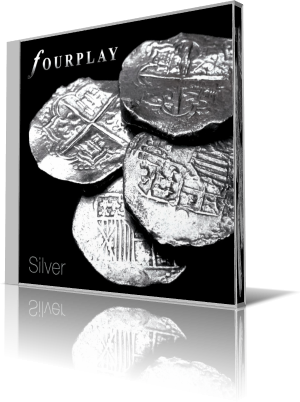 The disc is silver. Four silver coins adorn the cover. And the music is certainly precious. Fourplay releases its 25th anniversary album, Silver (Heads Up International, 2015). With little exception, each song title plays off the anniversary theme.

The supergroup debuted in 1990, four accomplished jazz artists who have been both sidemen and leaders. The current group consists of Bob James, piano, keyboards and synths; Nathan East, bass and vocals; Chuck Loeb, acoustic and electric guitars, and synths; and Harvey Mason, drums, percussion, vibes and synths. Founding guitarist Lee Ritenour makes an appearance, as does his replacement, Larry Carlton. Additional players are Kirk Whalum, tenor sax on "Precious Metal"; Chris Wells, background vocals on "Silver Streak"; John Beasley, additional keyboards on "Windmill"; Mitch Forman, organ on "Silverado"; and Tom Keane, synth on "Aniversario."

Loeb composed the opener, "Quicksilver." It's an upbeat, yet mellow piece in a way that's mildly reminiscent of "Bali Run," the first track of the group's debut, Fourplay. East provides a whispery, wordless chant during the chorus. That it has similar sound to "Bali Run" may not be an accident. In the liner notes, Loeb writes of his fondness for Fourplay from its inception, mentioning his great admiration for Ritenour and Carlton. "With this recording, I urged my bandmates to revisit their discography and keep the spirit of that very first recording, and all those that followed, present."

James penned "Horace," in honor of one of his favorite jazz pianists, the late Horace Silver. The Loeb-East composition "Sterling" is next, followed by Mason's "A Silver Lining."

Carlton and Loeb co-wrote "Silverado," which features Loeb on the left and Carlton on the right. This is one of the more playful tracks in the set – an easy "get up and dance" number. While the guitars lead the way, one cannot overlook the groove laid down by East, James' tickling the ivory or Mason's play.

Subsequent tracks are "Mine," by James, the Mason-Wells composition "Silver Streak," Loeb's "Precious Metal," and the East-Keane collaboration, "Anniversario."

The set ends with a remake of Mason and Ritenour's "Windmill," which first appeared on Rit's solo release, Portrait. This arrangement is slower, milder than the original, but equally charming and, perhaps, more elegant. After two passes on the main theme, the band gets funky underneath James' piano solo. Ritenour takes a turn, deviating from his middle solo on the original. After the group takes another pass on the theme, James takes point on the fade.

For the most part, Fourplay alternates, with the group releasing an album and touring about every two years. When they're not together, members explore individual projects or work with other artists. Collectively, the members have a rich history as lead artists, collaborators and session players. Among their stage and studio associations are Maynard Ferguson, Spyro Gyra, George Benson, David Benoit, B.B. King, David Sanborn, George Duke, Rick Braun, Boney James and Kirk Whalum. Silver continues Fourplay's tradition of mixing contemporary jazz with blues, R&B and pop.