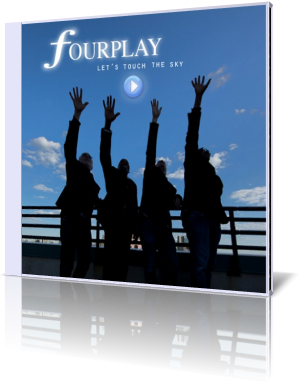 What is Fourplay? A supergroup of individual artists who came together 20 years ago, collaborating just about every other year for a collection of songs that combine their talents.

The original group consisted of composer/pianist Bob James, guitarist Lee Ritenour, drummer Harvey Mason and bassist Nathan East. James and Ritenour had enjoyed much success as session artists as well as instrumentalists. East and Mason mostly served as sidemen or guest soloists.

Over the two decades of Fourplay's existence, the individuals – Larry Carlton replaced Ritenour in 1998. Now with Carlton gone, the guitar seat is filled by another prominent solo artist: Chuck Loeb.

The transition goes smoothly as Loeb makes his Fourplay debut with Let's Touch the Sky.

"Gentle Giant (for Hank)" is among Fourplay's more straightforward jazz songs. It begins as an elegant, finger-snapping jig, fronted by the piano. Loeb's rhythm guitar has an old-school, Wes Montgomery vibe. The song is named for the late Hank Jones.

East delivers an airy, wordless vocal on the Brazilian-flavored "Night in Rio." Mason's subtle percussive track adds to the mood. Loeb and James contribute solos. Vocalist Anita Baker sits in on the closing track, "You're My Thrill." Her charming voice is the perfect touch to this soothing ballad.

Let's Touch the Sky brings an eclectic mix of the safe and contemporary, which is smooth jazz peppered with R&B, with the complexities of jazz.


Fourplay - Website