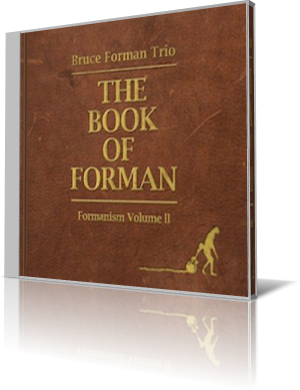 A little bit of standards and a lot of fresh material. That's the composition of the Bruce Forman Trio's The Book of Forman (Formanism Volume II) (B4Man Music, 2015).

The musicians are guitarist Forman, bassist Alan Frank and drummer Marvin "Smitty" Smith.

The set begins with "Hate Mail (Letters of Love)," a delightful piece. Forman effortlessly moves from single string to chords and back as he guides us through this journey that's part romance, part bitterness. Frank and Smith are locked in a groove throughout. The finale is setup by a guitar-bass duet, while Smith softens his strokes, working in some cymbal rolls for a change of pace. Smith's rim shots and deft work on the high-hat are highlights.

The trio injects a light, bossa nova touch to Gillespie/Coots classic, "You Go to My Head." The arrangement maintains a moderate pace for the most part. But there are some gear-shifting moments, where the vehicle slows as if preparing for a turn, then quickly resumes speed as it cruises down the avenue. On the fade, Forman repeats the same three-beat chord sequence, while his companions show off.

Frank joins Forman in a duet lead on "Ray Brown's Bass." It's a slow, easygoing, walk-in-the-park type song. When they stretch out, the guitar is layered in two melodies. The bass at times plays a counter melody or leads.

Forman is considered one of the strongest, most notoriously swinging bebop and mainstream jazz guitarists. He has delved into other genres as well. Forman composed eight of the 11 tracks.