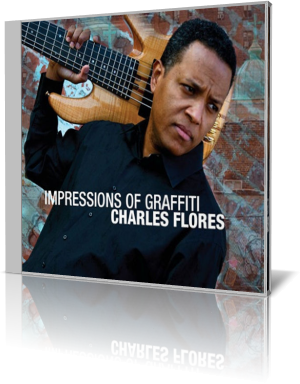 When Steely Dan was making hits in the 1970s, its leaders, Donald Fagen and Walter Becker, were known for being perfectionists in the studio. Their writing and painstaking attention to detail with session players made every song a masterpiece.
It's that same kind of approach that makes
Impressions of Graffiti
(Dafnison Music, 2013) a powerful vehicle for bassist Charles Flores. In sports, players are often told to "leave it all on the floor (or field)," a way of inspiring them to give their absolute best. Flores, 40, did that in his first – and last – recording as a leader.
Flores was unaware that he had cancer at the time of the recording. The disease claimed him on August, 22, 2012. The set of 11 original songs was recorded over three days in what's been described as a lock-out, sleep-in-the-studio session.
Flores plays a six-string electric bass for most tracks, and an acoustic on "Gentle Words." The sidemen are Elio Villafranca, piano and keyboards; Richard Padron, guitar; Cliff Almond, drums and percussion; and Manuel Valera, keyboards on "The Whole Train," and percussion programming. Guitarist Wayne Krantz joins for "Street Walk" and "Driving Through."
"Gentle Words" is a placid selection that has a hint of bossa nova. The accompaniment is subtle, like the smooth surface of an inlet with no wind. The guitar leads for a time, but Flores also captures the spotlight. The background keys give it an orchestral feel.
"Broken Image" is a brooding piece. Padron's guitar weeps as it carries the melody. Flores steps in with a bass solo that conjures visions of Haslip or Pastorius. Villafranca deftly shifts from acoustic piano to haunting keyboard. And all this happens with Almond's steady, heady stick work, accented at times with rim shots.
"Driving Through" is an all-in piece that gives each player an opportunity to step out. A touch of rock fusion adds some spice. Villafranca's work on the keys brings to mind a sophisticated robot gone amok, wreaking havoc in its surroundings.
Flores wrote nine of the songs on
Impressions of Graffiti
and co-wrote "Street Walk" with Villafranca, who also wrote "Broken Image."