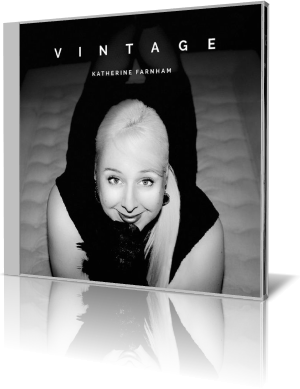 She answers to Kool Kat. Pianist and vocalist Katherine Farnham breaks out the cool, the groove, the funky and the ethereal with Vintage (2016).

The music melds several genres, incorporating pop, funk, R&B, spiritual and a hint of easy listening, employing a few jazz musicians to help deliver her messages. The variable lineup of session players consists of Dan Warner, guitar; Dan Feizli, bass; Jason Furman, drums; Akil Thompson, guitar; Roy Vogt, bass; Marcus Finnie, drums and percussion; Jorge Costa, drum programming and background vocals; Kirk Whalum, saxophone on "Star Reacher"; Juancho Herrera, guitars; Nestor Torres, flute on "Mermaid" and "Eternidad (Eternity)"; Andres Canola, guitar and percussion; Danny Jiosa, guitar; additional vocals on "Zip, Zad, Zowee": Thompson, Finnie and Dave Hagen.

In the "Prelude," Katherine speaks over an electronic soundscape, asking the question, "How far would you go for love?" It's an appropriate setup for what's to come, songs of relationships, romance and pursuit of dreams.

"My Shoes Are Leaking" is a slow, melancholy piece. Farnham sings of longing for one she feels she's about to lose. She pours plenty of emotion into this. The accompaniment is solid throughout, with each player making a mark.

Whalum joins Farnham for "Star Reacher," a moderately paced charmer. His tenor adds emphasis to some of the lyrics with fills here and a counter melody there. The background vocals add a hint of gospel, particularly when one voice parts from the others like when a member of the church choir shouts above the harmony. Farnham layers background vocals as well.

Solo piano introduces "Mermaid" with a few bars that flow like ocean waves. Farnham then begins singing, quickly joined by the rest of the ensemble. Vogt's bass line and Finnie's drum play add depth. Torres' flute is the perfect complement to Farnharm's haunting melody. After a brief solo by Torres, the two voices merge for some of the most beautiful sounds on the album.

Farnham supports the Salvation Army, the ASPCA, Doctors Without Borders and veterans causes. Named the 2014 Los Angeles Music Awards Female Singer/Songwriter of the Year, she has been compared to Barbra Streisand, Norah Jones and Joni Mitchell. She has appeared on Good Morning America, Telemundo and has toured throughout the United States and abroad.

Vintage is mostly a pop album with greater emphasis on instrumentation and harmony than your standard radio fare. But it also throws in some jazz, including the remade and retitled "My Funky Valentine" and the sassy "Zip, Zad, Zowee." It's music that has a little something for everyone.