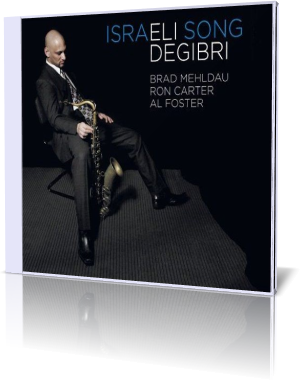 "Living the dream" is an inside joke among saxophonist Eli Degibri and his bandmates. It's also an inspiration for Israeli Song (Anzic Records).

Born in Jaffa, Israel in 1978, Degibri says the story of a boy who dreamed of being in the shoes of some of his jazz heroes, like Wayne Shorter and Joe Henderson. A student of the Berklee College of Music in his teens, Degibri also studied at the Thelonious Monk Institute of Jazz. To help realize his dream, Degibri employed the talents of pianist Brad Mehldau, bassist Ron Carter and drummer Al Foster.

"Unrequited" begins as a tranquil, ambient piece with the soprano sax and piano. Bass and drums come in, but are barely noticeable at first. As the piano takes point, the other instruments become more involved. The pace and intensity pick up. Mehldau, who composed this piece, shows his dexterity and speed -- centerpieces of his middle solo. Degibri puts the soprano through some powerful phrases during the high point of his solo. The instrument wails at all the right moments.

Degibri takes the tenor on "Judy the Dog," a lively, playful piece. Bass and drums are prominently engaged behind the two leads. They're even more into it during the piano solo.
Foster's stick work is a highlight of the group's cover of Dizzy Gillespie's "Bebop." The tenor's bouncy lead carries the piece, but the hi-hat rhythm and the tom rolls give it extra punch. Carter and Mehldau sit this one out.

Degibri composed six of the 11 tracks. His sidemen contribute one each. The quartet is solid throughout. Though Foster and Carter are in the background most of the way, their involvement is effective.


Eli Degibri - Website