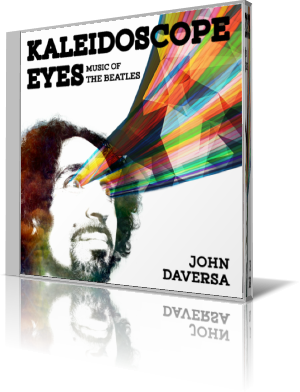 I saw recently where someone said The Beatles were overrated. That's a bold statement to make, considering the group's immense popularity, nearly six decades after their debut in the United States, and nearly five after their breakup. Their songs have been covered by artists of many genres, and some have done entire sets based on the music of Lennon, McCartney, Harrison and Starr. John Daversa enters the fray with
Kaleidoscope Eyes – Music of The Beatles
(BFM Jazz, 2016).
Daversa plays trumpet, EVI (electronic valve instrument) and vocals. The orchestra consists of Jeff Driskill, alto and soprano saxophones, flute and piccolo; Phil O'Conner, alto sax, clarinet and bass clarinet; Tom Peterson, tenor sax, clarinet and flute; Phil Feather, tenor sax, flute and oboe; Katisse Buckingham, tenor sax, flute and alto flute; Bob Carr, baritone sax, bass clarinet and bassoon; Nancy Newman, bass sax; trombones by Alex Iles, Bill Booth and Paul Young; George Thatcher, bass trombone; trumpets and flugelhorns by Daversa, Ron King, Bijon Watson, Glenda Smith, Bob Schaer, Jay Daversa, Daniel Rosenboom and Aaron Smith; Tommy King, piano and keys; Andrew Synowiec, guitar; Zane Carney, guitar; Nick Mancini, vibraphone; Jerry Watts Jr., basses; Gene Coye, drums; Joe Martone, percussion; violins by Susan Chatman, concertmaster Peter Kent, Gina Kronstadt, Songa Lee, Jordan Slocum and Yihuan Zhao; violas by Matt Nabors, Kate Reddish and Jimbo Ross; celli by Peggy Baldwin, Giovanna Clayton, Paula Hochhalter, Liza Liu and Judy Kang; and the choir: Genevieve Artadi, Zane Carney, Carol Huston, Kate Reid, Ann Sheridan and Greg Whipple. Additional instruments recorded: Chad Bernstein, trombone; Derek Ganong, trumpet and flugelhorn; Tyler Giroux, valve trombone; Christine Guter, voice; Sharon Jackson, violin; Guy Manning, tuba; Jesus Mato Jr., trumpet; Javier Nero, trombone; Chris Palowich, bass trombone; Kathleen Robertson, violin; Nike Ross, cello; and Will Wulfeck, trombone. Singer Renee Olstead joins for a few tracks.
Olstead performs the stellar opening, "Good Day Sunshine" and "Do You Want to Know a Secret?" She brings her own soulful jazz style to complement the arrangements.
"And I Love Her" begins softly, almost mournfully. It's a slow, easy listening approach to the ballad. Daversa leads the first verse. Then a brassy, orchestral swell handles the second verse. Carr, Young, Daversa and O'Connor take turns with brief solos before the song reverts to its yearning, longing beginnings.
"I Saw Her Standing There" is an epic take on The Beatles' early hit. Buckingham lends his voice to this one, plugging in a creative rap and singing some of the original lyrics. He also solos on the tenor. Like several tracks, this song goes through multiple changes as Daversa pushes the proverbial envelope.
Recorded at Alva's Showroom in San Pedro, California,
Kaleidoscope Eyes
is not a simple tribute album. Daversa shakes, bakes, mixes, dissects and reassembles in myriad ways. World-renowned trumpeter Terence Blanchard writes in the accompanying booklet of his experience with Daversa, as well as his own impressions of the music in this set. "This is the definition of artistry and creativity. There are different colors and swirls where reality doesn't seem real anymore."
Daversa is assistant professor of music, chair of the Department of Studio Music and Jazz at the University of Miami's Frost School of Music.