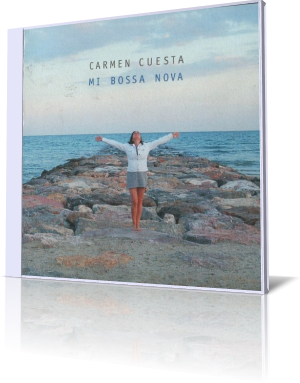 As romance goes, the cross connection couldn't be more appropriate. Vocalist Carmen Cuesta celebrates bossa nova, that elegant blend of Brazilian song and North American jazz. Mi Bossa Nova (Tweety Records, 2011) is a collection of 11 titles, seven of them written by renowned Brazilian composer Antonio Carlos Jobim.

Cuesta's core accompanists are pianist Matt King, drummer Brian Dunne , percussionist David Charles and her husband, guitarist Chuck Loeb, who also plays keyboards and, on selected tracks, bass. Bassist Christian Diener appears on several songs.
"Jobim" is Cuesta's tribute to the artist whose music provides the deepest inspiration for Cuesta. Cuesta's blends well with the flutes. The lyrics provide hints of Jobim's great songwriting, mentioning locations like Copacabana, Ipanema and Corcovado, as well as the "waters of March." The song features flutists David Mann, Christina Loeb and Lizzy Loeb.

Howard Levy provides the harmonica for "Tormenta," a charming, yet brooding appeal for the rain to wash away the sorrow. Levy provides fills after vocal phrases and also has the middle solo. Though the lyrics are sad, the melody is lovely.

Born in Madrid, Spain, Cuesta fell in love with bossa nova upon hearing the Stan Getz/Joao Gilberto/Astrud Gilberto recording of "Girl from Ipanema," recognized by many as the definitive song that popularized the style. In 1979, she met Loeb, who was touring with Getz. When the couple married, Getz was the best man. Over the years, Cuesta has accompanied Grover Washington Jr., Michael Franks, Gato Barbieri, Peabo Bryson, Earl Klugh and many others.

The inspiration for Mi Bossa Nova came during a 20-show tour of the U.S. East Coast, during which Cuesta and Loeb performed the music that brought them together.