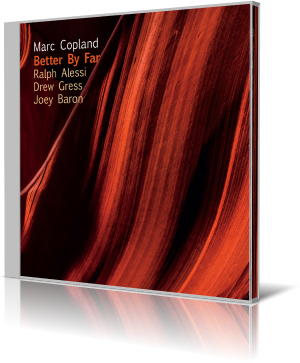 Sometimes, a jazz artist just wants to play good music – feel-good music. No crossing over to attract a diverse, or younger, audience. No enhancements or gimmicks to pick up on contemporary trends. Just the musicians, their instruments, quality songwriting and an hour of your time. That's what you get with Marc Copland's Better By Far (Innervoice Jazz Records, 2017).

The players are Copland, piano; Ralph Alessi, trumpet; Drew Gress, double bass; and Joey Baron, drums.

"Day and Night" opens the set. It's a bright, warm piece that features some crisp stick work by Baron. Bass and trumpet share the lead when the melody begins. Alessi takes the first solo, taking the trumpet on an easygoing jaunt, a stroll in the park that's occasionally broken up by a few hops and skips. Copland takes it to another level. With Gress and Baron firmly engaged, the pianist takes the baton and turns the jaunt into a sprint. Gress downshifts a bit when it's his turn, slowing down to enjoy the scenery.

"Gone Now" begins in a melancholy mood. The piano solos on the intro, evoking a sense of loss, sadness. The other instruments join as the tune warms up. The trumpet is soft, relaxed as it plays over that brooding piano. Copland then stretches out, delving deeper into the moment, as if reliving the departure of a loved one, viewing it over and over, but from different angles. Though sad, there's a beauty to it. Alessi and Gress also get their moments, with Baron keeping it together in the background.

Better By Far is Copland's follow-up to 2016's Zenith. Eight of the nine tracks were written by Copland or the quartet. The lone cover is Thelonious Monk's "Evidence." The key for this project is the band's interplay and sense of sharing.

Copland compares it to basketball, with references to the 1969 New York Knicks and the present-day Golden State Warriors. "If one player holds the ball all the time, everything stagnates," he says. "If you get four or five players who understand sharing, then magic is everywhere."

There is plenty of magic on Better By Far.