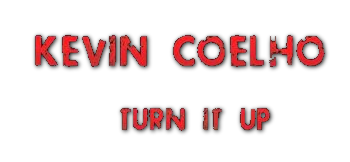 Already drawing comparisons to Joey Defrancesco, young Kevin Coelho is making his mark as one of the up-and-coming jazz organists. Just 17 at the release of Turn It up (Chicken Coup Records, 2013), Coelho is showing mastery of the Hammond B3.

The album covers a wide swath of material, including some standards, covers of pop songs, a tribute to past Hammond compositions and original songs. Accompanying him are guitarist Derek DiCenzo and drummer Reggie Jackson.

"Root Down," composed by B3 icon Jimmy Smith, is a lively groove that features all three musicians. Even when playing backup to the leader, DiCenzo and Jackson are firmly locked in, each putting his own stamp to the sound. For his part, Coelho makes the organ sing with vigor.

Coelho's take on War's "The World Is a Ghetto" is brilliant. The trio stays within the lines during the familiar theme at the front end. However, the musicians go hog wild during the middle break, starting with DiCenzo. Jackson stirs the pot plenty as he assists both guitar and organ.

One might not think of "When Johnny Comes Marching Home" as a song that's friendly toward jazz interpretation. However, in Coelho's hands, it becomes quite a jam. The trio packs plenty of pizazz into this arrangement. And just when you think Coelho and company have given it all they've got, they turn up the heat a little bit more.

Coelho debuted at 16 with Funkengruven – the Joy of Driving a B3, which JazzTimes described as "both viscerally moving and intellectually satisfying." He says he wanted Turn It Up to be fun and have a dance club vibe. He has succeeded in that endeavor. Born August 29, 1995, Coelho began studying piano at age 6. He fell in love with the B3 upon hearing Booker T & the MGs hit, "Green Onions." He was won several honors and performed at major festivals. Coelho is studying computer science at Stanford University.