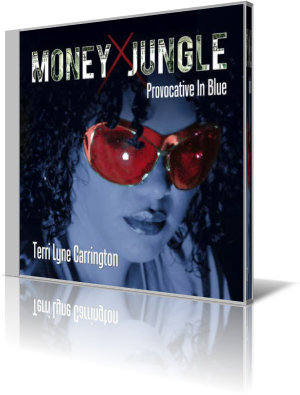 Grammy-winning drummer Terri Lyne Carrington has been haunted by Duke Ellington. More to the point, she's been haunted since first hearing a recording she picked up in a discount bin around 2003. It was a trio recording featuring Ellington with bassist Charlie Mingus and drummer Max Roach: Money Jungle. That recording was a commentary on the ongoing battle between art and profit.

Carrington decided to bring in keyboardist Gerald Clayton and bassist Christian McBride to recapture the spirit of that recording, while making it fresh with her own interpretations. Money Jungle (Concord Jazz, 2013) features the trio with eight arrangements of Ellington's music, plus two originals by Carrington and one by Clayton. Others who contribute here and there are Robin Eubanks, trombone; Tia Fuller, alto flute; Antonio Hart, flute; Nir Felder, guitar; Arturo Stable, percussion; Shea Rose and Lizz Wright, voice tracks; Herbie Hancock, the voice of Ellington on "Rem Blues/Music"; and Clark Terry, voice and trumpet on "Fleurette Africain."

The title track's opening voice-over paints a vivid picture: It's all about money, set to the backdrop of Carrington's toms. Then the band kicks in, with McBride's snapping bass licks helping set the tone and Clayton taking point. The song, as stated by the voice-over, is a dark look at the world and the cynical view that people only exist to make money – not for their material gains but to keep the machine going. The closing sequence of the song is overlaid with actual sound bites of political figures speaking about current economic issues, including Martin Luther King Jr. and Presidents Bill Clinton and Barack Obama.

Wright steps in with an ethereal chant on "Backyard Country Boy Blues." The song begins with an old-style, front porch blues vibe, Felder's guitar accompanied by Wright's moan. The pieces picks up into something more contemporary with Wright's voice exuding a soothing quality. She combines with the piano for the melody while a layered voice track responds to the call.

Carrington was born in 1965 in Medford, Massachusetts. She toured extensively with Herbie Hancock, Wayne Shorter, Al Jarreau, Stan Getz and many others. She was part of the house bands for two late-night television series, The Arsenio Hall Show and Vibe, which was hosted by comedian Sinbad. In recent years, Carrington has collaborated or performed with such notables as DeeDee Bridgewater, Patrice Rushen and fellow Grammy winner Esperanza Spalding. Carrington's 2011 release, The Mosiac Project won a Grammy for Best Jazz Vocal Album.