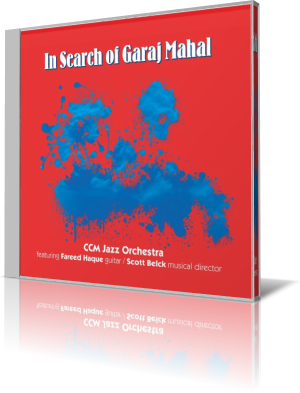 Guitarist Fareed Haque is a solo artist as well as a member of Garaj Mahal. The group's approach to jazz inspires many, including Scott Belck, jazz director at the Cincinnati Conservatory of Music. The pair collaborated with Belck's orchestra for
In Search of Garaj Mahal
(Harmonized Records, 2016).
There are two ensembles: the University of Cincinnati College-Conservatory of Music Jazz Orchestra, and the CCM Jazz Lab Band. The orchestra is comprised of musical director, Dr. Scott Belck; Joe Duran, lead alto saxophone; Ryan Van Scoyk, alto sax; Josh Kline, tenor sax; Eric Wurzelbacher, tenor sax; and Nathan Hatton, baritone sax; Michael Dudley, lead trumpet; Ty Sheets, Eric Lechliter and Aaron Todahl, trumpets; Charles Dong, lead trombone; Jacob Neiderman, Christian Dawson, trombones, and Josh Omaits, bass trombone; Brad Myers, guitar; Jordan Pollard, piano; Will Wagner, bass; and David Albanese, drums. The Jazz Lab Band, featured on "Alvin," consists of Dominic Marino, director; Curtis Holtgrefe, lead alto saxophone; Emily Jordan, alto sax; Royce Files, tenor sax; Kyle Kidwell, tenor sax; and Caleb Burkhardt, baritone sax; Michael Cruse, Sarah Muttyala and James Tilman, trumpets; Christian Dawson, lead trombone; and Michael Bauer, bass trombone; Niko Kordalis, guitar; Adam Sampson, piano; Julia Higgins, bass; and David O'Connell, drums.
"Chester the Pester" opens the set. The introduction is a haunting, symphonic sequence that quickly evolves into an upbeat hybrid of big band and fusion. Wagner's thumping bass line is a constant. His middle solo is consistent with the schools of Pastorius, Patitucci and Miller. Haque uses effects to make his guitar sound like a keyboard. Albanese's stick work is superb throughout. The horns cannot be overlooked as they play a lot of the lead melodies.
"Uneven Mantra" begins tranquilly, with Haque playing acoustic. It's a moderately-paced, yet easygoing piece. Some of the horns are muted as they go through the main theme. The music has a hypnotic element. The movements conjure images of an expedition, an adventurous trek through lands both strange and exciting. Featured soloists Jim Feist, table; Duran and Haque.
Belck told Haque he wanted to do a big band adaptation of Garaj Mahal's music. With Haque as featured guitarist, the two ensembles made it happen. In Haque's own words,
In Search of Garaj Mahal
, this music is meant to be played loud.