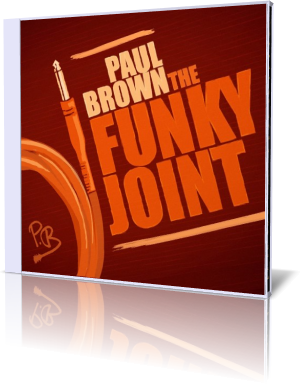 The Funky Joint by guitarist Paul Brown (Woodward Avenue Records, 2012) may be misleading in its name. However, as a release in the smooth jazz genre, it's right on the mark.

For better or worse, Brown's name became synonymous with "snooze jazz." No doubt, that's largely due to his input as producer on some releases by a few WB Jazz artists back in the 1990s, when the drive to appeal to fans who weren't necessarily in to smooth jazz and to increase the probability of getting more play on commercial radio – a lesson in failure – led to a lot of formulaic, cookie-cutter music. As a front man, though, Brown holds his own quite well.

An assortment of smooth jazz names appear as guests in various configurations. Among them are keyboardist and programmer Jeff Caruthers, bassist Roberto Vally, horn arranger Jerry Hey, saxophonist Boney James and drummer Ricky Lawson.

All tracks of The Funky Joint fit safely into the model of smooth. Each track is less than five minutes long, and half of them barely break three and a half minutes. Some of the melodies are catchy, and the mood is, "relaxing." However, just because it's smooth doesn't mean it has to be boring.

The title track is a delightful groove that opens the set. Hey's horns give it a little depth, and Vally's bass adds a soulful vibe. Through it all, Brown gets into a zone and stays there, playing to his heart's content.

James plays the tenor on "As Clear as Day," which he co-wrote with Brown and Marc Antoine, who contributes the nylon-string guitar. Guitar and sax blend for the lead on this Sunday drive in the country, with each taking turns for brief solos or bridges. The supporting cast of Antoine, Vally, Lawson and keyboardist Marco Basci stay engaged rather than getting lost behind the melody.

Brown, a two-time Grammy Award winner, has been a trademark on the smooth jazz scene since producing James' hit debut, Trust in 1992. Brown has scored 50 Number 1 hits as the genre's top producer. The Funky Joint, Brown's sixth release as a leader, further establishes him as a worthwhile solo artist.