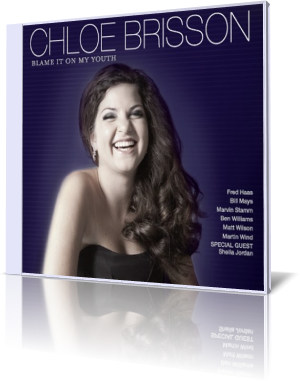 A little sass, a little brass and a lot of pizzazz. Young vocalist Chloe Brisson delivers all three with her aptly titled sophomore album, Blame It on My Youth (2012). Her previous effort, Red Door Sessions, was released in 2007 when she was just 13.
The new album is a set of 13 tracks, mostly fresh interpretations of standards by a variety of composers, including Cahn, Jobim, Porter and Gershwin. Brisson's band is comprised of arranger Fred Haas on saxophone; Bill Mays on piano; Marvin Stamm on trumpet; Ben Williams on trombone; Matt Wilson on drums; and Martin Wind on bass. Guest vocalist Sheila Jordan contributes to the final track, "I'm Gonna Sit Right Down and Write Myself a Letter."
Some of Brisson's sass comes out in the delightful "So Long You Fool." Her voice is earthy, not unlike Tierney Sutton or Corinne Drewery. Haas performs a bouncy saxophone solo, supplement by an engaged rhythm section.
Stamm delivers a free rolling trumpet lead to introduce the tranquil, soothing arrangement of Antonio Carlos Jobim's "Dindi." Brisson sounds like an alto flute that can pronounce words. The energy picks up during the middle break, adding to the taste of Brazil. Though mostly in the background, Mays' piano enhances the beauty of this piece.
Brisson was a high school junior when Blame It on My Youth was recorded, during the summer of 2011. She has studied at Dartmouth College, focusing on jazz theory, piano and she has performed with the Dartmouth College Gospel Choir. She regularly attends the Interplay Jazz Camp and has worked with Jordan, Dianne Reeves and others.
Often, when a young vocalist enters the jazz world, she sings standards that have been covered many times over. The danger in this is that the songs have been heard before and can sound trite. However, with good arrangements and a vocal style that is her own, the emerging artist can set herself apart from the rest. Brisson is clearly on solid footing with this effort.