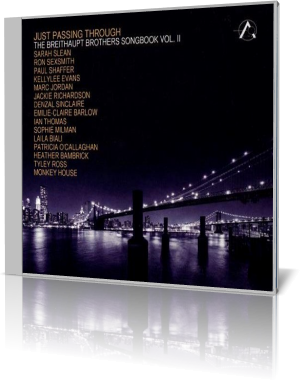 The Breithaupt Brothers note that many vocalists who record a jazz album tap into the American Songbook. Compositions by George and Ira Gershwin, Cole Porter, Hoagy Carmichael, Richard Rogers and Larenz Hart have been covered by artists of a various genres, including Natalie Cole and Rod Stewart. With Just Passing Through – The Breithaupt Brothers Songbook Vol. II (Alma Records, 2014), composer Don and lyricist Jeff attempt to recapture that spirit but with all-new material.

Each of the 15 tracks is led by a different vocalist. But these aren't merely guest performers invited to sit in on the session. Many are singers the brothers have worked with before, including some who have performed their songs live.

The musicians are Don Breithaupt and Paul Shaffer, keyboards; Justin Abedin, Drew Zingg and Mike Francis, guitars; Russ Boswell and Pat Kilbride, bass; Steve Heathcote and Mark Kelso, drums; Tony Carlucci, William Sperandei and Dave Dunlop, trumpets; Carlucci, flugelhorn; Doug Gibson, Gordon Myers and Terry Promane, trombones; Gibson, bass trombone; Phil Poppa, Perry White, John Johnson, Vern Dorge, Andy Ballantyne, Mike Murley and Turner King, saxophones; Ross Woolridge, clarinet; Maurizio Baccante, cello; and Heathcote, percussion.

Kellylee Evans fronts the opening track, "Where Are They Now?" Her earthy voice is the perfect fit for this moderately paced song, complemented at times by the horn section. The mood is like something you might expect from the pop/rock band Chicago, with a hint of early 20th century classical.

"Any Day Now" is an easygoing piece, led by Ron Sexsmith. He sings with a whispery sound, similar to Michael Franks, but lower. During the instrumental break, a muted trumpet takes us on a stroll through the park.

Other vocalists who contribute are Denzail Sinclaire, Emilie-Claire Barlow, Jackie Richardson, Heather Bambrick, Marc Jordan, Paul Shaffer, Sophie Milman, Sarah Slean, Laila Biali, Monkey House, Patricia O'Callaghan, Ian Thomas and Tyley Ross.

It remains to be seen whether these songs will become standards for the future. But they all have that potential. It's just a matter of getting them heard by enough people to inspire current and future artists to adopt them.