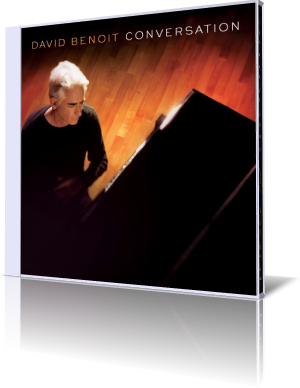 Some people credit David Benoit with being a pioneer of smooth jazz. He was making a name for himself in the format before it was established as a format. But thatís not an accurate picture. The pianist and composer is all about making good music. And a glance at his repertoire reveals straight jazz, Latin, Brazilian, pop, orchestral and other styles.
Conversation (Heads Up, 2012) is Benoitís personal statement: ďIím not pandering to radio. Iím just doing what I love to do, and thatís whatís been so much fun about it.Ē
Longtime friend and collaborator David Pack co-wrote the opening track, ďNapa Crossroads Overture.Ē As its name implies, this song captures the essence of Benoit. At once, itís pop, itís light jazz, itís cinematic. Benoit plays piano, keyboards and conducts the orchestra. Pack plays guitar and adds orchestrations. A little depth is provided by Pat Kelley on acoustic guitar, David Hughes on electric bass, Jamey Tate on drums and Brad Dutz on percussion.
If ďDiary of a Wimpy KidĒ has a ring of familiarity, itís because the song, composed by Theodore Shapiro for the 2010 movie of the same name, is in the mode of Vince Guaraldi, who scored the Charlie Brown animated series for many years. Benoit, a fan of Guaraldi and the Peanuts gang, has covered several of the songs used in the series and later composed new music for subsequent programs. Jeff Golub steps in with a guitar solo, and Benoitís daughter June adds the violin. Sharp play by the supporting cast of Kelley, Hughes, Tate and Dutz, particularly the slapping bass line.
ďKeiís Song ReduxĒ is a new arrangement of one of Benoitís most popular compositions. Kelley aids with an acoustic guitar solo, absent from the original recording, and Tim Weisberg adds flute.
Benoit has more than 25 solo recordings since his career began in 1977. He has been nominated for several Grammy awards and has made numerous guest appearances with other artists, including The Rippingtons.