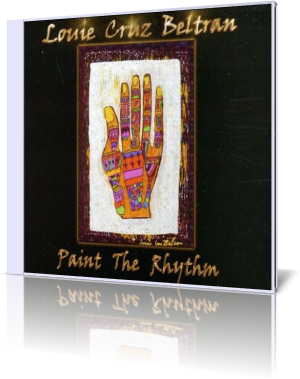 Music can affect emotions, but something about Louie Cruz Beltran's Paint the Rhythm (Corniche Entertainment, 2011) also conjures a taste for chips and salsa.

Beltran has performed with a diverse lineup of stars, from Smokey Robinson and Natalie Cole to Dave Koz and Macy Gray. He's accompanied by a variable array of musicians. Among them are pianist Joe Rotondi, vibist Nick Mancini, bassists Oscar Cartaya and Abraham Laboriel, and the three-piece horn section of tenor saxophonist Justo Almario, alto saxophonist Albert Wing and trombonist Eric Jorgensen.

The set sizzles from the start with "Chili Caliente." Beltran composed this spicy piece, and offers plenty of seasoning with his lead vocal. After a few vocal verses and a brief quote, "Shimmy, shimmy, coco-bop," he lets the instruments do the cooking. Rotondi takes a turn out front, but it's largely about the percussion, with a little help from the horns.
Beltran croons to the Bacharach/David classic, "The Look of Love." It's as charming a rendition as one can hope for, and the Latin rhythm adds a lovely touch. Justo Almario contributes on the tenor sax.

Flutist Hubert Laws steps in on the title song. Beltran's lyrics paint a vivid picture of the art of romance. The vocals take on an ethereal presence during the chorus. In addition to his original songs, Beltran stirs in some engaging arrangements of pop/rock hits like "Hey Girl," "Spooky" and "Black Magic Woman."

Paint the Rhythm is Beltran's third release as a leader. His others are It's My Time and Live at the Ford.