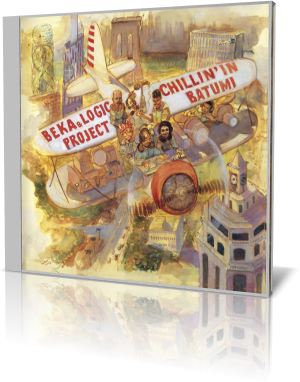 Hip-hop meets jazz when pianist Beka Gochiashvili teams up with Jason Kibler, also known as DJ Logic. The Beka & Logic Project presents
Chillin' in Batumi
(Exitus Entertainment, 2014).
Gochiashvili plays acoustic and electric pianos and synth. Kibler handles turntables and soundscapes. Also performing are former
America's Got Talent
finalist Butterscotch, rap, spoken word, beat-box and sound effects; James Hurt, synthesizer and vocoder; Jaleel Shaw, alto saxophone; Lamont McCain, electric bass; and Justin Tyson, drums.
Beka plays the electric piano coolly underneath the vocal for the title song. The style is reminiscent of late 1970s fusion, the type you might expect from George Duke. Tyson's drum play and timely crash cymbals help underscore the leads. During the middle break, Beka switches to acoustic piano. Though he has the lead, Tyson goes full throttle on the kit. Butterscotch comes back in with a haunting chant before the song shifts to full, hip-hop mode, with Kibler stepping up.
"High Expectations" is full-on fusion, not unlike something by Duke or Weather Report. Shaw, McCain and Tyson are locked in behind Beka's work on the keys. Electric piano and alto engage in a high-speed dialogue. At times, they sound like Bob James and David Sanborn when those two heavyweights created a lot of music together. Note the speed of McCain's bass, clearly borrowing a few pages from the Jaco Pastorius playbook. The song then downshifts as Kibler and Hurt become more engaged. The ending is highlighted by Beka, Shaw and Tyson.
"Timon and Pumbaa" is a laid-back groove that honors the lovable characters from Disney's
The Lion King
. The electronic sounds are key here. Butterscotch recites spoken word about the friendship between meerkat and wart hog. As with other tracks, electric piano, sax and bass make significant contributions, whether as lead or background. Beka's play here is mindful of Bob James.
"Endless Youth" is an instrumental tribute to one of Beka's idols, Chick Corea. It's a high-energy track, which mostly features Shaw and Kibler out front, with plenty of activity from McCain and Tyson.
Now 18, Beka began playing piano at 4 and by 9 was performing at clubs in his home of Tbilisi, Georgia. He was 11 when his skills were noticed by Lenny White, who eventually became Beka's mentor. Then-U.S. Secretary of State Condoleezza Rice and American cultural envoys helped Beka come to the United States, where he was accepted into the Juilliard School of Music. His self-titled debut recording includes some of the top jazz veterans, White, Stanley Clarke, John Patitucci, Victor Bailey and Wallace Roney.
DJ Logic emerged in the 1990s amidst the Bronx hip-hop scene. The deejay has among his associations Christian McBride, Jack DeJohnette, John Mayer and Mos Def. He's one of the few deejays with both the skill and interest in playing jazz using a turntable.
Beka composed music for all tracks, with McCain, Kibler and Tyson contributing to "Miles' Galaxy." Butterscotch and Antoinette Clinton wrote the lyrics for four songs.