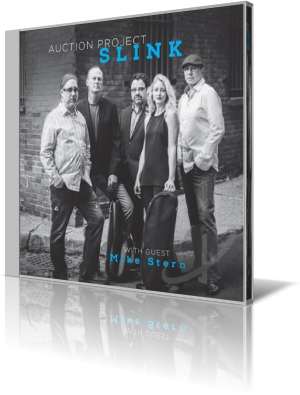 It's jazz, but then it's something else.
Slink
(David Bixler, 2014) is a collection of nine songs, many with Irish or Celtic roots.
The group is headed by David Bixler, alto saxophone; and Heather Martin Bixler, violin. The rest of the band are Arturo O'Farrill, piano; Carlo De Rosa, acoustic and electric bass; and Vince Cherico, drums and cymbals.
"Bear Island Reel" opens the set. It's a moderate groove with the sax and violin stating overlapping phrases during the melody. In the notes, the song is described as an early Irish version of the Funky Chicken. Bear Island is a location off the south of Ireland, where composer Finbar Dwyer grew up. A reel, explained in the text, is a folk dance. The Bixlers carry the lead during the main theme, making use of overlapping phrases. The violin is out front for a good bit of the first third of the song, before stepping aside for sax and piano solos. When the song reverts to the main theme, sax has the melody all by itself, with the violin ad-libbing and the piano putting in extra emphasis here and there.
Guitarist Mike Stern sits in on the title track. His unique style is evident from the first note. The title is named for one of the Bixler children, Seth, who is known to slink about and add stress to his parents' lives. The music reflects that concept well as it changes moods and intensity. One can easily imagine this being the soundtrack to a motion picture sequence wherein some small person gets into things that fall just short of disaster. Cleaning bills will increase, if not medical expenses.
Three of the nine songs on
Slink
were composed by David Bixler. Heather Martin Bixler wrote the closer, "Workmanship." The other songs were arranged by David. The music is part tribute to Irish and Scottish heritage, and part reflection of the lives of the Bixlers and their children.