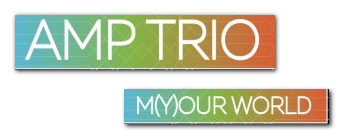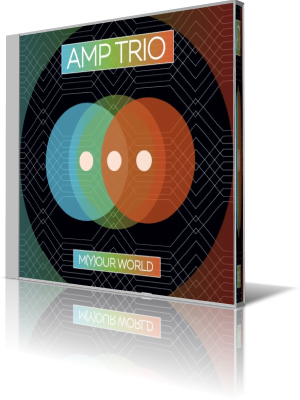 Music for the visual? Amp Trio does both an audio recording and a video series with m(y)our world (2015).

The musicians are Addison Frei, piano; Matt Young, drums; and Perrin Grace, bass. Special guests who appear on selected tracks are Tahira Clayton, voice; Brad Kang, guitar; Drew Zaremba, organ; and Nick Rothouse, percussion.

Clayton joins the trio for "Stand by You." It's an upbeat title, driven by Grace's riveting bass line. Frei's piano play gives the song a touch of beauty and elegance. The lyrics speaks of friendship, as Clayton sings, "Stand by me, and I will always stand by you."

Clayton joins again for the haunting ballad, "Boundlessly in Balance." Her soulful singing is an ideal complement to the instruments. After two passes on the theme, the music shifts gears, becoming more passionate, more intense. Instead of a romantic vibe, it takes on an air of danger, drama, suspense. The moment passes, and we're back to the tranquil ballad briefly before shifting back into high gear. This time, the instruments take over, with the piano serving up a fiery solo. Clayton returns with the theme will the band is still in high gear, softening one last time for the closing sequence.

For "Phil S Bill," the trio plays it straight. It's a delightful, moderate piece in which all three plays shine. The piano is out front most of the way, but the bass gets a moment to stretch out. Young plays softly on the front end, but as the song progresses, he picks up his intensity and enjoys a call-and-response sequence at the song's peak. All three heat up at the conclusion.

Amp Trio released Flow in 2013 and toured the United States and Canada over the past three years. Performance venues include the Shapeshifter Lab in Brooklyn, the Velvet Note in Atlanta, and the Jacksonville Jazz Festival.