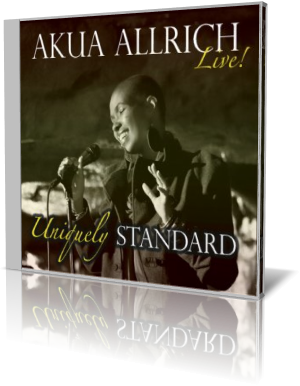 Akua Allrich, a native of the District of Columbia, taps into a variety of musical styles as her influences. She has roots in blues, soul, R&B and jazz. Hints of each can be heard in Uniquely Standard, Akua Allrich Live! (2012).

The disc was recorded in two sessions. Eight songs were done at the Bohemian Caverns on February 14, 2012. The other three were recorded at THEARC Theater. Accompany Allrich in both sessions are Kris Funn on bass and Kush Abadey on drums. Janelle Gill handled piano duties at the Bohemian Caverns performance. At THEARC, Warren Wolf plays piano, and Samir Moulay plays guitar. Agyei Osei Akoto contributes congas on one selection in the latter performance.

"My Baby Just Cares for Me" starts things off in a lively fashion. Allrich's voice is rich, charming. Fun stretches out a bit during the middle break, much to the delight of some in the audience. One of the fun things about a live recording is hearing the audience respond to excellent play, as happens several times during this piece.

Allrich injects plenty of soul into her take on "Don't Let Me Be Misunderstood," employing a grinding vocal inflection in key points. Gill's piano solo makes it even more enjoyable.
The band gets more involved on the cover of Miriam Makeba's "Jol'Inkomo," with Gill leading the way.

Allrich shows tremendous skill and range, whether singing lyrics, a wordless chant or scatting. Often compared to Miriam Makeba or Nina Simone, Allrich has developed tribute programs to honor them and other African-American women of jazz.